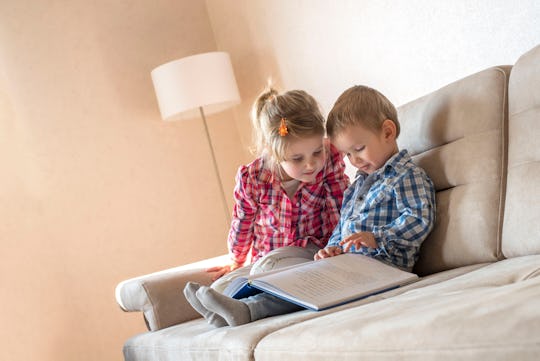 Shutterstock
These 15 Kids' Books About Brothers & Sisters Are Perfect For Bonding Time
Brothers and sisters are like dogs and cats: not always the best of friends, but not necessarily natural enemies, either. They may snarl over territory and whine for their parents' attention, yet at the end of the day, you can find them peaceably resting or playing together. Some of the lucky ones even bond right from the beginning. This complicated (and often hilarious) relationship is captured in many terrific children's books about sisters and brothers that are sure to be a hit in your own household library.
The brother-and-sister dynamic is different from the one between sisters or brothers alone. There's a battle-of-the-sexes flavor to their fights, and it can be harder to decide what to play together. (Superheroes or bad kitties? Okay, we'll compromise and pretend the floor is hot lava... ) But for all the teasing and competing, there's also a mutual admiration and love, and when it really matters, brothers and sisters know they can count on each other for support, defense, and the occasional alibi.
If you're raising a sister-brother duo, they'll love reading these books about siblings with issues that sound all too familiar. But even same-gender sibs will get a kick out of the rivalry and revelry these titles offer.