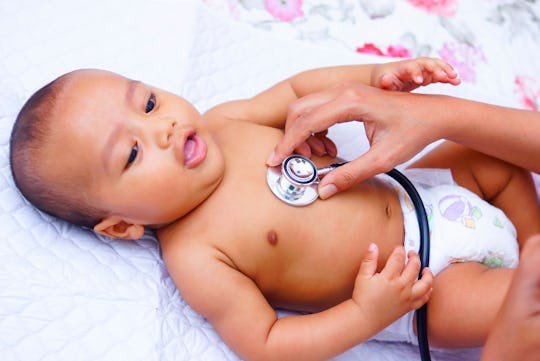 Shutterstock
15 Insta Captions For Your Baby's Most Memorable Moments At The Doctor
During your baby's first year of life, it's highly likely that you're going to be at the doctor's office about a dozen times or so. And during those pediatric visits, you're bound to see some snap-worthy moment (or you know, 12) that demands documenting. But once you have that totally adorbs photo of your little one looking lovingly at the pediatrician, what are you doing to do with it? If you're planning on sharing your image online, these Instagram captions for pics of babies at the doctor can make your post even more amazing.
If you think about it, almost any visit to the doctor can produce frame-worthy photos. From the pics of your baby playing with the paper on the table (or yikes, eating it), to them sitting so cutely on the scale waiting to be weighed, there just doesn't seem to be a moment that's not precious. But you don't want to just leave the picture on your camera roll to get lost with the other 5,793 images — you want everyone to admire the beauty of your babe, too.
From baby's playful interactions with the pediatrician to even, yes, that first howl after getting a shot, these are the moments worth capturing. So get ready to Insta your images with these cute captions of your even cuter kiddo.