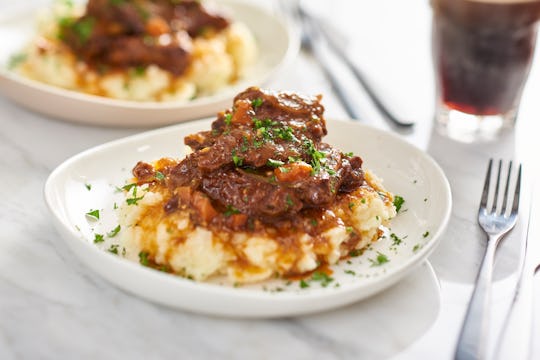 Jeff Wasserman/Stocksy
These Instant Pot Recipes Will Feed A Super Hungry Super Bowl Crowd & Then Some
Food is arguably the most important part of any sporting event. Sure, touchdowns, camaraderie, and referee drama are all necessary, too, but what remains constant during all the highs and lows of the game? The heaping pile of food on your plate, which will without a doubt be your Super Bowl companion as you watch Tom Brady act like he's the best thing that ever happened to football. That said, it can be a bit of a challenge to make sure you have enough food for your whole football squad, which is why these 15 Instant Pot Super Bowl Sunday recipes will be your #1 draft pick come game day.
Buddying up to your Instant Pot for football's biggest day of the year is brilliant because of how quickly you can make food in it and how little effort it will take you to cook with it. Super Bowl parties always end up chaotic, and cooking something elaborate probably isn't feasible. Picture it: you'll have to manage six grown adults screaming at the television, dozens of kids crying because you somehow ran out of juice, and mediating the debate that breaks out between your Patriot and Rams friends during a particularly controversial call in the 2nd quarter. And you have to be stuck in the kitchen on top of that? Please.
With all that going on, you might just want to pick up food and avoid cooking altogether, but if you're going to brave it, the Instant Pot is the simplest way to go. Check out these fifteen recipes for pressure cooker inspo, as well as these easy-but-amazing finger food ideas and satisfying slow cooker recipes for the football festivities too.