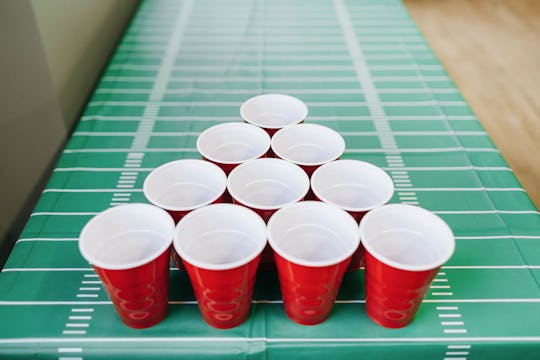 Alicia Magnuson Photography/Stocksy
These Super Bowl Party Games Are Even More Fun Than The Commercials
There are three types of guests you can expect at your Super Bowl party: the superfans who scream themselves hoarse with every touchdown; the casual watchers who pay more attention to the commercials; and the non-sports types who are just there for the hot wings. For the latter two groups, the game can become tedious after a while, so you'd be wise to plan some Super Bowl party games to keep the action going all evening long.
If you're a parent, you've probably come to think of games as something for kids only. Time to change all that. Some of the liveliest grown-up get-togethers I've been to (or hosted) have involved one or more games of some sort: a traditional board game; a Cards Against Humanity-type match-up; a "Minute to Win It" challenge; you name it. When you and your guests allow yourselves relax and get into the spirit of the competition, it won't be long before everyone is laughing and cheering as much for the party games as for the newest Doritos ad or the halftime show.
These are a few suggestions for games to get you going. Some are quick enough to finish between football time-outs; others are meant to continue right up to the final whistle. Prep two or three (or more) before your guests arrive, and you'll be assured of a night that'll be a winner, no matter which football team walks away with the trophy.