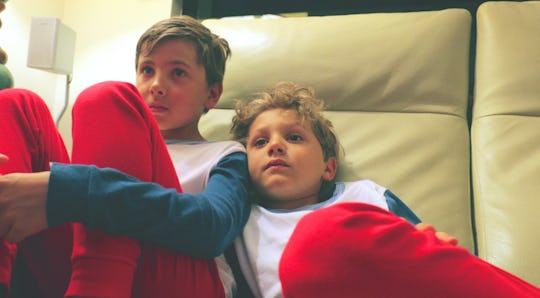 13 Family-Friendly Super Bowl Activities, Bc Not Everyone Cares About The Game
Like most things, Super Bowl watch parties change once you have kids. You can't tailgate like you did in days of yore (unless you find a babysitter who's willing to watch over you and the kids). Plus, you'll probably be hearing "Mommy, I'm bored" after about 10 minutes of settling into the game. Expecting children to sit in front of a TV for hours without getting antsy is just unrealistic. But luckily, there are a ton of Super Bowl activities you can do as a family that will keep the kids entertained and let you watch the biggest football game of the year in peace. Can you believe?
Whether they're into crafts or games, your kids will be all set thanks to these activities, and will keep them from tugging on your sleeve every five seconds. You're also in luck if you plan on having a larger party this year; a lot of these activities work best with a big crowd of kiddos — they can keep each other entertained while you focus on Tom Brady's game gear (or how cute Giselle and the kids look, which will be my personal focus).
So read on for kid-friendly Super Bowl fun that will change the way you watch football.