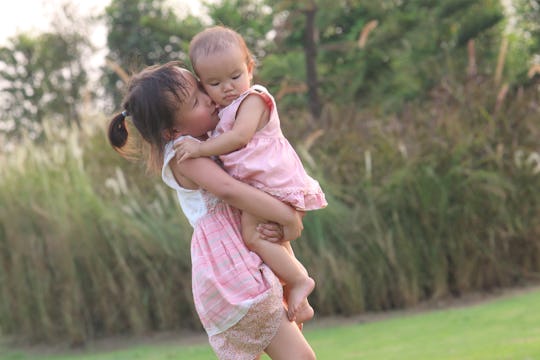 Shutterstock
Aww, These 15 Instagram Captions For National Sister's Day Are So Sweet
Something exciting is happening on August 4, and it's not Barack Obama's 58th birthday, though that's happening too and I'm psyched for him. National Sister's Day is the first Sunday of August every year, so this year the celebration falls on August 4. There's no right way to celebrate the day, except for one unspoken rule: You need to post a picture of you and your sis and it needs to have a sweet Instagram caption for National Sister's Day. No pressure though.
My sister and I are lucky enough to live in the same city, so we'll probably go for a walk, or maybe watch a hilarious home video from our childhoods (like the one where my sister throws a hunk of clay at a lamp without anyone noticing until the room starts to fill with smoke and the camera abruptly turns off after a stream of expletives). You know, memories.
If you don't have a sister, don't worry, I'll be your stand-in for the day. I'm very good at the job because I'll babysit for a low, low family rate, I always bring snacks over, and I'll provide honest and balanced critiques of your outfits. Oh, and I'm always down to take a selfie and help you caption it. Read on for my favorite Instagram captions to celebrate sisterhood (and maybe you consider your friends your sisters; that's worthy of a celebration too). In the words of Christina Aguilera, Lil' Kim, Mya, and Pink, Hey sister, go sister... straight to Instagram and make a memorable caption because you won't get the chance for another year.