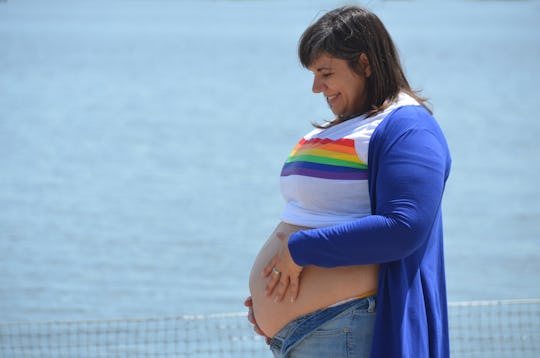 Shutterstock
These 15 Sweet Rainbow Baby Announcement Ideas Are So Magical & Meaningful
Announcing that a new baby will soon be joining the world is a thrilling moment. It's typically the first celebration of this growing little human in your belly, and it's a joyous feeling to share your life-changing news with the world. However, for families who have experienced loss, this announcement is truly sacred, not to mention emotional. If you're preparing to announce your own miracle, draw some inspiration from these 15 sweet rainbow baby announcement ideas.
While all pregnancies are unique, most rainbow mamas explain that unless you've experienced a loss, you cannot truly understand their gratitude. "And although most of us have the great fortune of being wanted babies, parents tend to have a special, and in many cases incredibly sharp, sense of being blessed when they are expecting and then giving birth to a baby that follows loss," explained Dr. Elizabeth Lorde-Rollins to Parents.
Having a rainbow baby doesn't mean your loss is forgotten, or your wounds miraculously healed. Having a rainbow baby is a testament to the deep love you feel for all of your children, whether they're in your arms or in your heart, offering renewed hope after your storm. The following examples should give you all the ideas you need to announce their arrival to the world.