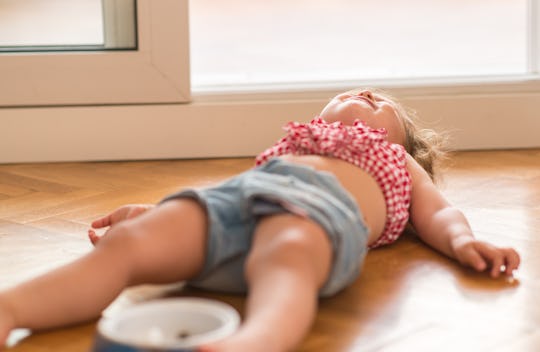 Aaron Amat/Shutterstock
16 Of The Worst Toddler Tantrums, According To The Parents Who Survived Them
My youngest child will be turning 5 in a few months, and up until now her behavior has been amazing. I can't name more than a handful of minor public meltdowns she's had in her four years wandering about the planet. Then it happened. And it sucked. She lost her cool and, well, I lost my mind. I know I'm not the only one to suffer through a public meltdown, so I asked other parents to describe their child's worst toddler tantrum. Sometime we just need a hefty dose of solidarity, people.
Here's my least favorite thing about one of my kids having a public freak-out (and the list is tremendously long and includes things like embarrassment, exhaustion, great big emotions, guilt, shame, and needing to eat my feelings): people who haven't spent time around kids throwing unmitigated shade because they just don't get it. That's not to say they're bad people or generally ignorant, but they just can't and don't understand kids the way a parent or caregiver does. They probably think this is a situation that has "a solution" when the fact of the matter is there's often nothing that can make the situation end... except time. And when someone thinks there's "a solution" to a problem that you're not employing, judgment ensues.
But here's my favorite thing about public tantrums (that list is much shorter): parents do get it. They super duper get it. And every now and then, when your kid is pitching a fit, another parent will give you a look of solidarity, or even an encouraging "hang in there!" and that is all it takes to make the situation bearable. Here are just a few of those stories, in case you need a friendly reminder that you're not along and this, too, shall pass.