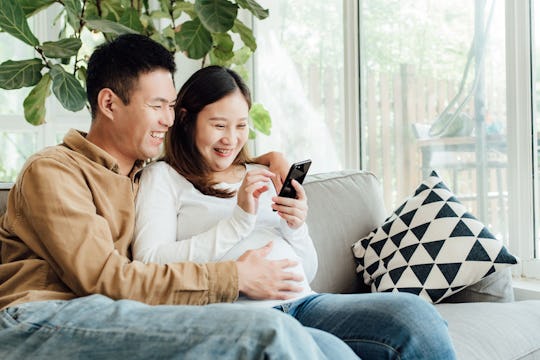 MaaHoo Studio/Stocksy
Have A Hilariously Hormonal Holiday With These Pregnancy Valentine's Day Memes
People usually think of Valentine's Day and pregnancy as having a causative relationship — i.e. lots of babies entering the world approximately nine months after February 14. But there are millions of women who are already with child come V-Day, and they don't get the recognition they deserve even though growing a human definitely changes the way you celebrate this holiday. Like, where's the Hallmark card that says "I love you but my Braxton-Hicks contractions make sex sound unbearable"? I can't provide you with that specific greeting card, but I can give you 16 pregnancy Valentine's Day memes that will make you feel #seen.
Honestly, taking a comedic approach to being pregnant on Cupid's favorite day might be the best move, because it would be totally understandable if you got frustrated at all the typical ways of celebrating you can't partake in this year. Of course, you're thrilled your love for your partner is growing through your bundle of joy, but it's a bit of a bummer that you can't share a glass of champagne with your sweetheart over a candlelit dinner. And on the topic of celebrating your love, it's no secret pregnant sex is definitely its own beast, though that might not always be a bad thing. Either way, you're probs still adjusting to the new adventures you're having in the bedroom since you conceived, which will be funny even if does turn out steamy in the end.
So read on for some majorly relatable V-Day memes for anyone who's expecting, and have a laugh as you grab another pack of heart-shaped candy. You deserve it, mom.