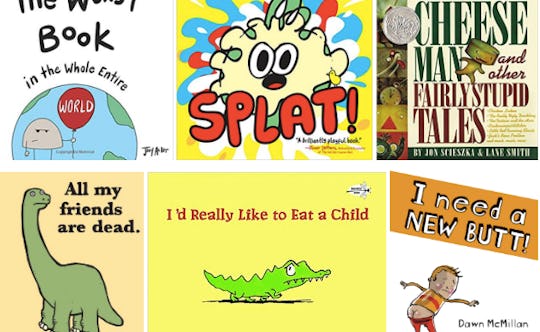 Amazon
Your Kid Will Want To Read These 16 Super Weird Children's Books Over & Over
Children's literature has come a long way since the Dick and Jane primers of 60-some years ago. Kids today have the luxury of turning to old favorites like Green Eggs and Ham, or to new classics like Pinkalicious. They also have their choice of books that are, shall we say, nontraditional. Quirky. Okay, let's just say it: Some children's books are downright weird. In some cases, that's a good thing; in others, maybe not so much.
When you look at the history of kid-lit, though, it's all weird. Those classic fairy tales children have loved for generations are downright grotesque in their original forms. Cinderella's stepsisters have their eyes pecked out by birds at her wedding. Snow White's stepmother tries to kill her not once, but three times (the poison apple comes after a poisoned hair comb and too-tight corset strings fail). In Hans Christian Andersen's original Little Mermaid, the young heroine is rescued from a fate of becoming sea foam by ethereal "daughters of the air" who bring her to a sort of purgatory where she can earn an immortal soul by doing good deeds for a few centuries. Nothing to it!
Then there are the famous weird books we grew up with ourselves and loved for their very quirkiness. Think of Willy Wonka, whose candy-making paradise becomes a hell for greedy kids. Alice meeting talking cats and mad hatters. Max, bossing around an island full of grotesque monsters. Meatballs and pancakes falling from the sky. Cats in hats balancing cakes and rakes. If anything, the gentler Llama Llama and Fancy Nancy tales are more of the exception to the genre.
Take a look at some of the oddball titles available at your local library or through Amazon. Some are intentionally weird, while a few are unexpected eyebrow-raisers.