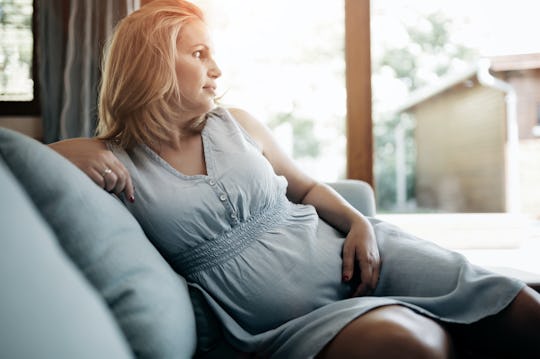 nd3000/Fotolia
16 Women Reveal The Grossest Thing People Said To Them During Their Pregnancies
After bringing three babies into the world, I can confidently proclaim that people lose their filters when they're around pregnant women. In my experience, people say rude, sexist, and super gross things, without even giving it a second thought, at the mere sight of a gestating woman. From my conversations with other moms, I've learned I'm, sadly, not alone. In fact, when I asked moms to share the grossest thing people said to them during their pregnancies, some of the responses were so disgusting I could barely stomach them. And that's saying a lot, because I'm a mom and immune to pretty much all things nasty.
I don't know if it's because people find pregnancy super interesting and want to make conversation, or if it's because people tend to objectify pregnant (and female) bodies in general. Either way, and regardless of any potential reason, the fact that pregnant women have to essentially brace themselves for gross comments is disturbing. As a pregnant woman I was asked super personal questions about my boobs (yes, they were bigger), belly (yes, there's only one baby in there), and even my vagina (no, I am not worried about it. Why are you?). I was also catcalled and even propositioned.
But like I said, I'm not alone. So with that in mind, here are a few of the grossest things people thought were OK to say to other people when they were pregnant. Fair warning, though: you might not want to read on if you're easily grossed out and/or prone to burning the world down, because damn, these are disgusting and enraging on so many levels.