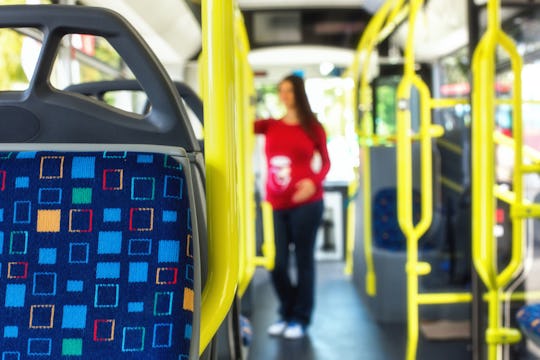 Fotolia
7 Things You Learn About Society When Men Catcall You When You're Pregnant
Sadly, I have to say that I've grown somewhat accustomed to being catcalled or harassed when walking on the street, taking public transit or simply trying to get from point A to point B as quickly as possible. Sadly, most women can say the same. Thanks to prevailing sexism in a society that says "boys will be boys," and "girls are asking for it," catcalling is somewhat of a "norm." I was surprised, however, to be catcalled when I was pregnant. A lot. There are things you learn about society when men catcall you when you're pregnant; things you probably already knew, but spend the majority of your time trying to forget because they're so infuriating; things you don't actually have to be pregnant in order to know; things that women can't necessarily ignore, because it happens to us every day, whether we're pregnant, or not.
Honestly, I was shocked that I was catcalled and harassed as frequently as I was when I was obviously pregnant. It seemed that the more my belly grew, the more inappropriate comments I would hear from complete and total strangers. As each trimester passed, more men felt the need to comment on my belly, and because it was obvious I had sex once upon a time (although, sex isn't always necessary in order to get pregnant, thank you very much) men seemed to feel entitled to comment on my presumed sex life, too. It's already somewhat uncomfortable to be pregnant and in public, as so many people feel it necessary to touch your stomach without asking. Add the lasting affects of a past sexual assault trauma (an estimated 1 in 5 women have been sexually assaulted, so 1 out of every 5 women who are catcalled have a higher risk of experiencing Post Traumatic Stress Disorder, depression, anxiety or traumatic triggers) and being a pregnant woman in public — hell, being a woman in public — is nothing short of difficult.
As a sexual assault survivor and someone who has experienced catcalling all too frequently, the things I learned when being harassed as a pregnant woman weren't necessarily new. Still, they were just as infuriating as the day my innocence was stolen from me, and the day I realized that being a woman in a patriarchal society is exponentially more difficult than being a cisgender straight white male. These lessons are worth learning and re-learning and then telling to those who will never experience street harassment or catcalling, because we can't fix what we don't know is broken.