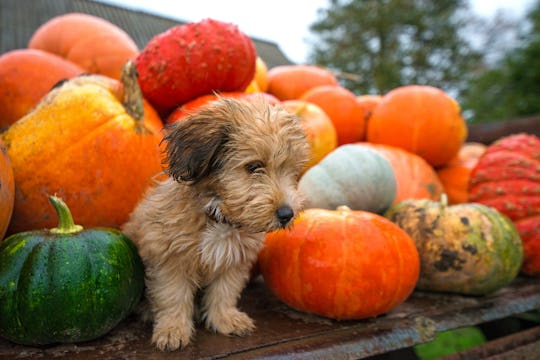 Shutterstock
These 17 November Dog Names Will Make You So Thankful For Your New Pup
Of all the months in the year, there probably isn't one that symbolizes family and gathering more than November. And as your family and friends gather to feast on a fabulous Thanksgiving meal, you'll most likely be grateful for all the good things in your life and want to share your good fortune. So why not spread the love by adopting a dog for the holidays? These 17 November dog names will inspire an attitude of gratitude.
Our beloved dog Samuel Logan recently passed away, and to say that it's been devastating is an understatement. Still, in spite of our grief, we knew as a family that we wanted to honor Sammy by offering love, support, and shelter to another animal in need. Enter Maxwell Duke, a lovely and energetic hound/lab/pit mix. I'll admit that the main reason why we sped up the adoption process was to offer sanctuary to a shelter dog in time for the holidays, but it's a decision that I don't regret.
That's why you should show your appreciation for what you have and welcome a furry four-legged friend into your homes and your heart for the holidays. Between the laughs, the love (and the licks), you'll have even more reasons to be thankful.