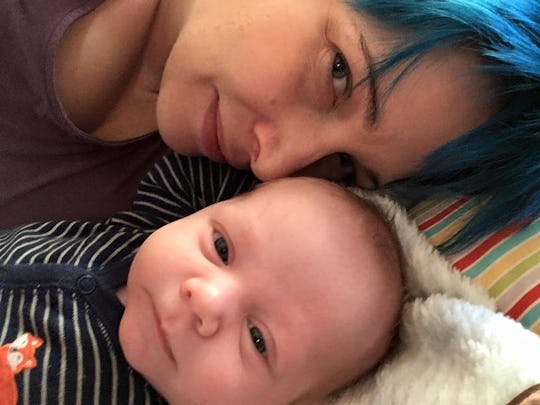 Courtesy of Steph Montgomery
18 Moms Share All The Things They Do Before 9:00 A.M.
Romper is asking moms to tell us what they've done before 9 a.m. to prove moms are running the world before most people are even awake. Share your list on Instagram with the hashtag #Before9AM for a chance to be featured on our Instagram!
My days start early. I'm up with the baby, who thinks 4:00 a.m. is an acceptable wake up time, or I drag myself out of bed before sunrise to teach or take a yoga class. Sometimes I can "sleep in" until my alarm goes off, which is still hours earlier than it was before I had kids. In my many conversations with other moms, I've learned that my mornings are actually pretty typical. Whether we stay at home, work, or a little bit of both, most moms have a long list of things they do before 9:00 a.m., and those lists are nothing short of impressive.
So, what does a typical morning look like? Well, for me, I try to enjoy a few minutes of silence before the chaos starts. If I'm lucky I have time to take a shower or brush my teeth in between getting my kids up, dressed, fed, and out the door to meet the bus that'll send them to school. Thank gawd for the bus. Then I typically enjoy a cup of coffee (or three), unload the dishwasher (if I remembered to start it the night before), change the baby's diaper, and watch him throw cereal on the floor. I start my workday at 8 a.m., in my pajamas, because I work from home. Amazingly, all of this happens before my child-less self used to even start her days. You'd think all this productivity would make me feel like a rockstar, but for the most part I just feel tired.
Whether we have to wake up early to feed babies, multitask to get kids ready for daycare or school (and ourselves ready for work), or try to fit as much caffeine and forward momentum into our mornings as is necessary to keep ourselves upright while we stay at home, it's abundantly clear that moms get some serious you-know-what done before 9:00 a.m., including the following: