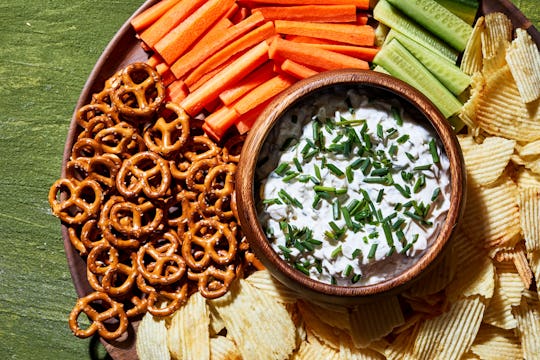 The Washington Post/The Washington Post/Getty Images
These 20 Walmart Appetizers Are Super Bowl Snack Goals (Get It?)
Whether you're in it for the game, the commercials, or the halftime show, the Super Bowl is a great time to gather with friends... and eat some really good food. If you're hosting, don't bother making an actual meal. Not when the best Walmart appetizers for your Super Bowl 2020 party are just as crowd-pleasing and way easier to get on the table.
The big game between the San Francisco 49ers and the Kansas City Chiefs (that's right, no Patriots this year!) will take place on Sunday, Feb. 2 at 6:30 p.m. (EST). The game is taking place in Miami this year, with Demi Lovato singing the National Anthem, per Sporting News, and Jennifer Lopez and Shakira as the halftime show performers, according to Parade. Between traditional football food and this year's Latin vibe, there are a lot of ways you can go with your party's snack spread.
There's no need to stress out about the food though, because you can get everything you need (and then some) at your local Walmart. They have a huge selection of appetizers so you can be sure your guests won't go hungry. Even better, there are tons of options for easy-to-make apps, so you can spend your time enjoying the game and not cooking in the kitchen.