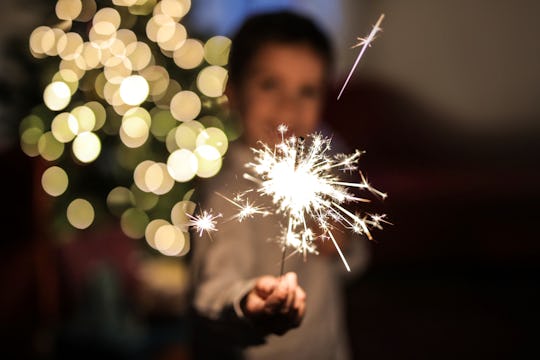 merla/Fotolia
20 Millennial Moms Reveal How Much They're Spending On A NYE Babysitter
When I was a kid, I remember my parents getting dressed up and going out with their friends every New Year's Eve, while us kids stayed home with a babysitter. I wanted to continue that tradition, but when I researched New Year's Eve child care options the tradition died. I, sadly, discovered that while my partner and I make a decent living, we can't afford to pay the going rate. I asked other moms how much they're spending on a New Year's Eve babysitter and learned that I was totally not alone in this experience. In fact, most of the moms I asked plan to stay home, unless they can get grandma to watch their kids for free, because rates are too expensive.
According to Urban Sitter, families generally expect to pay about 20 percent more for a New Year's Eve babysitter than they do for date nights other times of year. Average rates vary in different parts of the country, with the national average being $17.88 per hour for one child and $19.78 per hour for more than one child. Parents in New York City expect higher than average rates at $18.81 - $24.06 per hour, as do families in San Francisco at $18.91 - $22.36 per hour. Parents in Denver, however, expect to pay $14.14 - $17.00 per hour, which is much lower than the national average. In addition to the cost of a babysitting alone, 80 percent of parents report that they offer perks like cab rides or dinner to their New Year's Eve sitters, and 46 percent tip them generously to sweeten the deal.
If these rates seem high, it's because they totally are, especially when you consider that according to SmartAssets the average millennial only makes $17.10 per hour themselves. So what's a mom to do if they can't afford to pay for a sitter? According to the ones I consulted, they stay home, bring their kids along to child-friendly gatherings, host parties, or rely on family to help. Others have decided to capitalize on others' generosity by babysitting themselves. I totally wish I had thought of that, because damn, extra money would be nice this time of year. It seems that what was once commonplace — a child-free New Year's — is now a privilege few families can afford.
If you are wondering how much to pay your holiday sitter, or curious about what other moms are paying, get ready to endure a serious case of sticker shock: