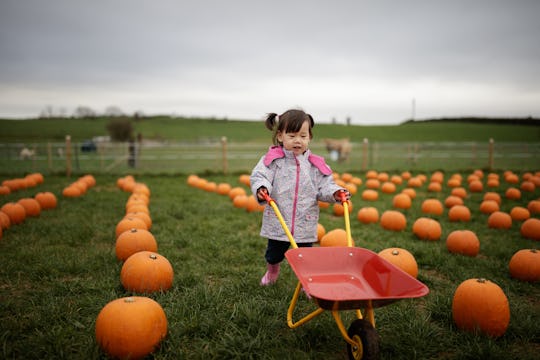 Shutterstock
These 20 Instagram Captions About Fall Will Inspire Your Pumpkin-Spiced Soul
When the ice cream trucks stop patrolling the streets, street lights appear earlier in the evening, and hot pumpkin lattes replace the cold lemonade and berry brews, you know summer is becoming a distant memory. Celebrate the new season by posting a relatable Instagram caption about fall that captures the feelings so many of us share.
My social media feeds right now are starting to fill up with photos of leaves changing colors, friends' children posing for school pictures, and countdowns to Halloween. There are the inevitable pro-and-con arguments over the ubiquitous fall flavor (also known as Pumpkin Spice Lovers and People Who Are Simply Wrong). A few intrepid souls also delight in reminding us just how close we are to Christmas. I say, bring on all of them. It's fun, harmless, and a nice tonic for the endless run of dismal headlines that also crowd our pages.
Even if you're a die-hard fan of summer, it's hard to deny the appeal of leaf-peeping, apple-picking, corn maze-navigating, cozy sweaters, comforting soups, trick-or-treating, and Thanksgiving feasting. Happily, there are plenty of autumn-themed Insta captions to sum up the season that will strike a chord with all your followers. Read on to find the one that's perfect for you.