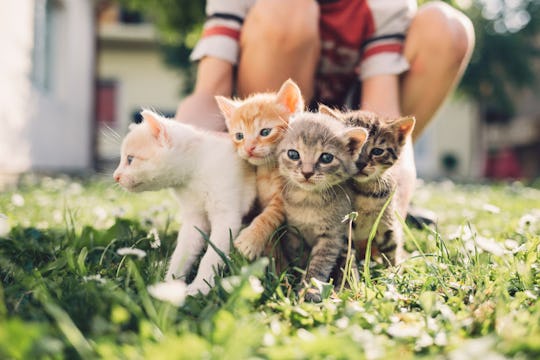 Lumina/Stocksy
These 21 'Game Of Thrones' Cat Names Are Befitting Of Your Fierce Feline
George R.R. Martin created an epic and expansive world when he wrote A Game of Thrones more than 20 years ago, right down to the unique names he gave his characters. I love that so many of the names in the series are Martin's own invention, and didn't exist in the world until he dreamed them up. Some of them have taken off in popularity for new babies, and if you're a pet owner, there's tons of inspiration to draw from for Game of Thrones cat names as well.
Animals feature pretty heavily in the world of Thrones, from Daenerys' dragons to the Stark direwolves, and of course, all those ravens. Names are super significant, too — you're much more powerful if you've got a well-known one, and it can be explosive when a secret one is revealed. There's no secret about these cat names, though — they're just super cute and fitting for all types of feline friends.
Here are 21 cat names that are perfect for any Game of Thrones-loving household, but I have just one warning — you may want to wait until you've seen the finale before deciding on a name... if you've seen the second to last episode, you'll know exactly why.