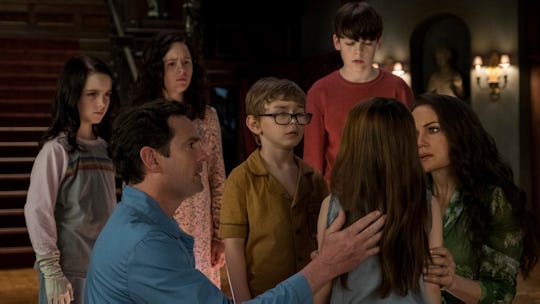 If You Think You've Spotted All The 'Haunting Of Hill House' Ghosts, Think Again
Everyone is talking about the new Netflix horror series, The Haunting of Hill House. If you love scary and you haven't seen the show, you need to check it out ASAP. I love all things creepy, mysterious and spooky, especially if there's a good ghost story involved, and The Haunting of Hill House has it all. In fact, there are so many ghosts sprinkled into each episode, they're everywhere, like confetti — as Nelly would put it. So, here are 34 Haunting of Hill House ghosts you may have missed. This show is basically a Where's Waldo book for ghosts, and it's genius.
While some of the ghosts we know (like Poppy, the 1920s era ghost who loves to instigate trouble, Hazel and William Hill, and of course, the "bent neck lady"), some ghosts hide in the shadows, leaving their identity a mystery.
You may have read other articles claiming to show you all the ghosts you missed, but what those articles don't have is the exact time the ghosts appear in each episode and their background story (if they have one). Not only that, I've added a few golden nuggets you might have missed if you're a very busy adult texting away or scrolling on your phone while watching. (Because, let's be real, we're all guilty of that, aren't we?)
SPOILER ALERT: If you haven't seen the show and you plan to watch it, save this article and come back to it after you've watched, because I am about to do some serious spoiling here. You've been warned. Now, I hope you're ready to get goosebumps because these ghosts are creepy AF. Think you've seen them all? Think again.