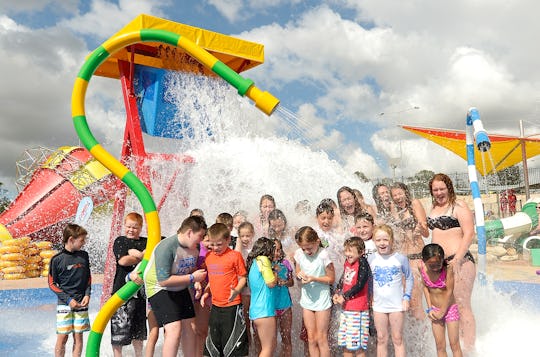 Brett Hemmings/Getty Images News/Getty Images
Here Are 4 Ways Going To The Water Park Can Affect Your Kid's Brain For The Better
Water parks are amazing places: They can give you thrills one minute and mellow moments the next. You can enjoy them any time of year: outdoor parks in the summer, and indoor parks in cold or rainy weather. What you may not know is that water parks affect your child's brain in a variety of surprising ways. Yes, all that splashing, tubing, and sliding actually make for a valuable learning experience (which might make it seem a little less painful to shell out money for those pricey tickets).
Romper spoke with Laura Phillips, PsyD, ABPdN, a board-certified clinical neuropsychologist in the Learning and Development Center at the Child Mind Institute in New York. She explains that going to a waterpark (think: Walt Disney World's Blizzard Beach, or the Great Wolf Lodge chain of indoor water resorts) provides a different developmental experience from the one you get at the county fair or your average dry-land theme park.
"Water provides a different sensory experience than other forms of play, such as playing with blocks," says Dr. Phillips. "It stimulates kids in an auditory, tactile, visual, olfactory, and even gustatory way — and provides a new experience for them."
Renee McGuirk, an early childhood educator in the toddler room at Progress Child Care Centre of Centennial College in Toronto, told Today's Parent that toddlers in particular can benefit from this type of tactile play: "They like to explore with all their senses and they enjoy all kind of sensory activities — water play is one of these. It's a combination of learning and enjoyment."
Here's what Dr. Phillips and other experts have to say about the brain-boosting benefits of visiting water parks. These perks more than make up for having to deal with damp bathing suits, long lines at the slides, and the lingering smell of chlorine.