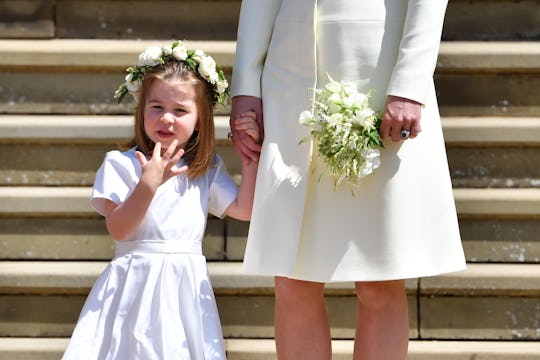 WPA Pool/Getty Images Entertainment/Getty Images
These Princess Charlotte Halloween Costume Ideas Are Royally Adorable
Sometimes Halloween just sneaks up on you, and you need something simple for your kid's Halloween costume — perhaps even something you may already have in your closet. If you don't want to cut holes in a sheet for a ghost costume a la It's The Great Pumpkin Charlie Brown (which, let's be real, would still be pretty cool) and you want to go royal, check out these five Princess Charlotte costume ideas for your kid. You may already have a lot of these items in your kid's closet, making it inexpensive, quick, easy, and too cute.
A little background on Princess Charlotte if you're not royalty-obsessed like many others: She's fourth in line for the throne, and she's the second child of The Duke and Duchess of Cambridge, aka Kate Middleton and Prince William. Formally known as "Her Royal Highness Princess Charlotte of Cambridge," according to the Royal website, she's just three years old, and clearly has a very huge title for such a tiny human. In April 2018, she officially earned another title — big sister — to her baby brother Prince Louis.
Dressing your child up as Princess Charlotte will definitely be timely, as it's been officially announced that she'll be a bridesmaid at Princess Eugenie's royal wedding on October 12, according to Sky News. So grab your cute dress with a collar, some Mary Jane shoes, and of course an adorable bow headband and your child will feel like a real live princess this Halloween.