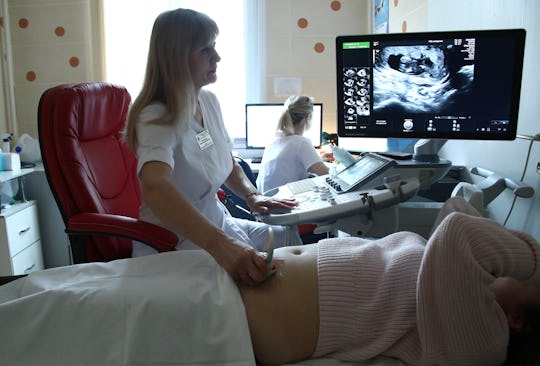 Valery Sharifulin/TASS/Getty Images
5 Things Radiologists See On Ultrasounds That Look Like Fuzz To You
It's exciting and sometimes emotional to see the first sonogram images of your baby, with their little head, tiny fists, and sweetly curled up body. But it can also feel more like watching a TV channel with a lot of static than looking at your own child for the first time, which is why it's so surprising when you realize all the things radiologists can see on fetal ultrasounds. While you're desperately trying to make out the shape of a foot or a hand in all the fuzz, they're spotting body parts (among other things) left and right. How do they do it?
It's important to talk about why radiologists are peering into your uterus in the first place. In addition to checking the amniotic fluid and the position of the baby, early ultrasounds are an accurate way to discern how far along the pregnancy is (much more so than, say, trying to recall when your last period was). This is known as "fetal biometry" and it measures the size of the fetus to determine your due date.
And if you've heard that ultrasounds are harmful to your baby? You can rest assured that's not the case. "There's no truth to the idea that ultrasounds are stressful to the fetus," Sharyn Lewin M.D. tells Romper. "Ultrasounds are actually very safe in pregnancy; there's really no detriment. In fact, ultrasound can be lifesaving because we can detect anatomic abnormalities or genetic syndromes that we wouldn't know about otherwise. Ultrasounds are critical to providing the best prenatal care."
Read on for five things your gynecologist or radiologist can see during your ultrasounds that might not be so crystal clear to you, and maybe at your next appointment you can ask them to specifically point out some of the less obvious body parts (like teeny fingernails) yourself.