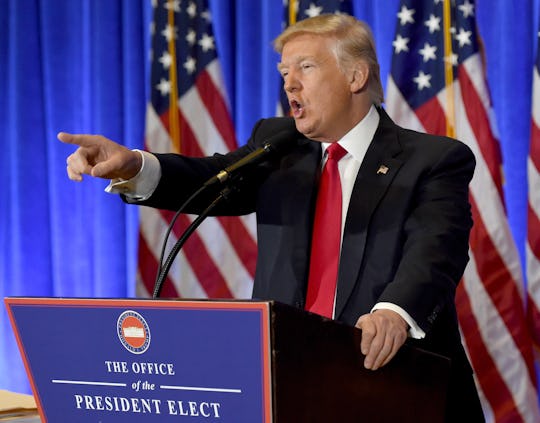 TIMOTHY A. CLARY/AFP/Getty Images
5 Things Trump Still Won't Do Before Taking Office
In exactly one week, Donald Trump will be sworn in as the 45th President of the United States. It has been a long, difficult road from the moment Trump announced his intentions to run for the country's highest office. And in that time, Trump has bucked decades of presidential protocol. In fact, the list of things Trump hasn't done before Inauguration Day that all presidents before him have is a long, sordid one.
During his press conference this week, Trump said once again that he won't release his taxes to the public, flouting a common practice among candidates and presidents. He also had his lawyer Sheri Dillon explain, for a lengthy period of time, that he will step down from the family business, but he won't actually divest ownership. And his blustering exchange with CNN reporter Jim Acosta was reflective of his general treatment of the press, which he has shut out of his meetings as president-elect — another long-standing tradition he's bucked. It's safe to say that Trump's road to the presidency is a harbinger of what's to come.
In the end, Trump plays by his own rules, with little regard for law and convention. Here are just five ways he's skirted the rules before Inauguration. Trump's transition team has not responded to Romper's request for comment regarding these issues.
He Won't Disclose His Tax Returns
It's common practice for presidential candidates and major party nominees to disclose their tax returns. It's a tradition that spans at least four decades. But President-elect Trump hasn't released his taxes. Nor does he ever plan to, as he reiterated at Wednesday's press conference. He claims it's because he's being audited, but an audit wouldn't prevent him from releasing his returns. According to The Washington Post, Richard Nixon released his tax returns while under audit. Trump has claimed he doesn't need to disclose his taxes because "you don't learn anything from a tax return." The truth, though, isn't on his side, as CNBC has proven you can absolutely learn a lot from a person's tax filings. To prevent this from happening in the future, lawmakers in several states are planning efforts to require presidential candidates to release their tax returns if they want to make it on the states' ballots, ABC News reported.
His Cabinet Picks Haven't Submitted All Necessary Background Checks
U.S. Senate rules mandate that administration picks clear background checks and ethics clearances before the Senate would consider their nomination. That's not the case in Trump's version of government. Several of his cabinet choices have yet to complete checks or even file the necessary financial and ethics paperwork, according to NPR. Still, despite objections both by Democrats and the Office of Government Ethics, U.S. Senate Majority Leader Mitch McConnell would not hold off the confirmation hearings that began this week.
He Refuses To Divest From His Business & Put It In A Blind Trust
Trump has not resolved any of his conflicts of interest. Dillon's speech at Wednesday's press conference may have made it seem as if he did, but that's not the case. While he and his daughter Ivanka will step down from the family business, turning leadership over to his sons Eric and Donald Jr., Trump will still retain ownership, according to NBC News. He also won't put his assets in a "blind trust," as presidents have done before him, which would have given an independent body control over his finances without his ability to intervene in their handling. Trump is simply still too close to his business, which is bound to create major conflicts of interest during his presidency.
Separate His Personal Life From His Political One
Never mind that Trump turned over control of his business empire to his eldest sons, he's also blurred the lines between his personal and professional life. First, his children, plus Ivanka's husband Jared Kushner, played major roles in his campaign, as well as on his transition team. Second, as Politico reported, Trump allowed his daughter Ivanka to sit in on his November meeting with Japanese Prime Minister Shinzo Abe in his official capacity as president-elect. And thirdly, Trump named Kushner, publisher of the New York Observer, as his senior adviser. All of this is too close for political comfort.
Open His Meetings As President-Elect To The Press
Trump has never been a friend of the press. During his campaign, the now president-elect promised that he would make it easier for people to sue publications for libel, according to Politico. After winning the election in November, Trump denied press access to his meetings as president-elect, breaking with protocol, reported the Associated Press. Normally, president-elects open their first official meetings with national and foreign leaders to a small pool of reporters, but Trump wanted none of that. And after Wednesday's press conference, it's not looking good for journalists in the future.