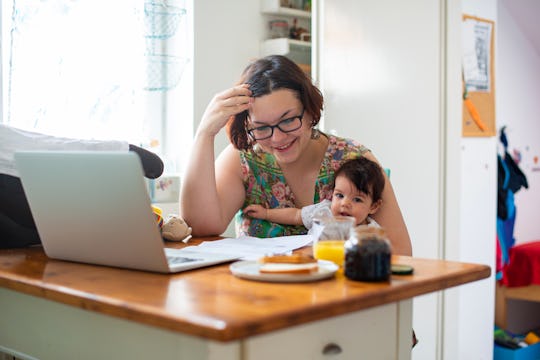 Shutterstock
Having A Baby Can Actually Help Your Career In These 5 Important Ways
Since giving birth to my two sons, I've been amazed at the ways having a baby can help your career, largely in spite of the ways we as a country fail to support working mothers. But when I found out I was pregnant with my oldest son back in 2010, a million questions about how my life would change flooded my mind. Near the top of my list was wondering what would happen to my career in television, one I had spent years building and was immensely proud of. My assumption was that it would be negatively impacted by having children; I was wrong.
Plenty has been said about the ways in which having a baby can be detrimental to one's career, and I want to preface this with the acknowledgement that my ability to say having a baby helped my career comes from a place of privilege. I have a supportive and involved partner, we were able to afford childcare, and I work in an industry that allows me to negotiate my salary regularly. Many women do not have those luxuries, and since we also don't have a federal law that grants paid maternity leave to new mothers, many women find their careers in direct opposition to their new role as mom.
But for me, I found that having a child helped me harness my power in the workplace and figure out how valuable my time and talents actually were. Here are the five ways becoming a mom helped my career, and how it can hopefully help yours as well.