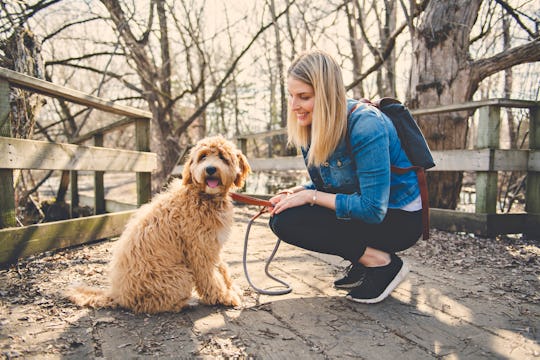 Shutterstock
Here Are 5 Ways To Show Your Dog You Love Them Just As Much As They Love You
Dogs enrich our lives in so many ways. They're our playmates during fun times, our companions in lonely times, our comforters in sad times, and our friends all the time. Of course we want to let them know how much they mean to us, but how do you show your dog you love them in ways they understand?
A lot of it has to do with respect and appropriate handling, as dog behavior expert Christina Shusterich, founder of NY Clever K9 Inc, tells Romper.
"Respecting your dog's need to be handled appropriately as an animal is crucial to developing a harmonious and enriching relationship with your dog," she says. "Dogs, like people, have certain ways they enjoy being touched and handled. Also like people, there are certain ways of touching and handling that dogs instinctively find uncomfortable, unpleasant, and threatening."
What we think of as being affectionate to dogs — staring into their eyes, kissing them on the top of the head, hugging, roughhousing, picking them up — can actually be intimidating or frightening to them, Shusterich explains. Owners of small dogs also tend to "move them around like objects," which the pups may tolerate, but don't necessarily enjoy.
What can you do to say "I love you" in a way you know your pooch will understand? Try these expert tips and watch your pet shower you with those slobbery kisses.