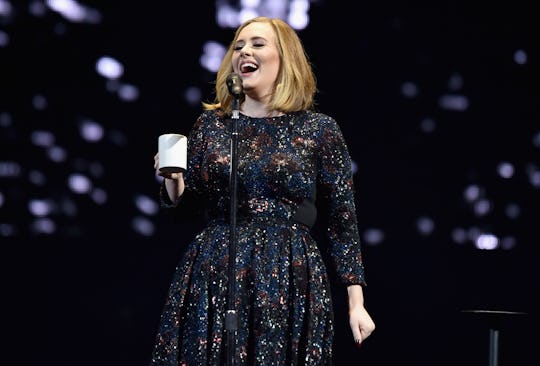 Gareth Cattermole/Getty Images Entertainment/Getty Images
6 Amazing Celebrity Millennial Moms Who Deserve All The Mother's Day Hugs
It's Mother's Day, which means it's time to celebrate mothers around the world — whether that's our friends, our own moms, or celebrity mothers who make us proud. Millennials are growing into this whole motherhood thing together, and it's great to see some of our favorite stars going through it all at the same time. If you want to feel inspired and understood this Mother's Day, here's a look at the six amazing celebrity millennial moms out there.
Because many people have grown up with these ladies on their TV screens or in their favorite magazines, it's a bit crazy to see them tackling motherhood. (Crazy in the sense of, "Well, if Lizzie McGuire can manage having a baby, maybe I can, too.") Not only have they become mothers, but they've become mothers people can look up to, learn from, and occasionally want as best friends. From those that speak out against shaming to those who raise awesome kids by modeling great values, these mothers are inspiring.
There's no way to include all of the famous ladies who deserve recognition on this list, so don't think that this is at all inclusive of all the excellent mothers out there. However, here are a few of my favorite celebrities who are rocking motherhood at the same time.
Chrissy Teigen
Of course Chrissy Teigen is at the top of this list. She might be a very recent new mother, but she's been on this list ever since she announced her pregnancy, thanks to her hilarious, candid way of dealing with haters. Baby Luna is lucky to have a mother like Teigen watching out for her, and Teigen is a great inspiration for dealing with anyone who wants to criticize a mother's parenting methods.
Adele
She has the voice of an angel, but Adele is also a super cool, inclusive mother to her son, Angelo. When speaking to TIME, Adele subtly said, "I can't wait to know who his best friends are going to be, who his girlfriend or his boyfriend is going to be or what movies he likes… Whatever my kid wants to do or be, I will always support him no matter what." No matter who that 3-year-old turns out to be, he'll know his mother has his back.
Alicia Keys
Alicia Keys is a mother to two boys, Egypt and Genesis, and believes wholeheartedly that having kids made her a better person. She co-founded Keep A Child Alive to fight HIV/AIDS in 2003, but said having children made the cause hit home. She also wants her kids to grow up with compassion and has raised them by modeling it firsthand. "I could never imagine if my kids were sick and I couldn't get them medicine that could make them better. Or if I was sick and they had to watch their mother die because we couldn't get access to something that exists," she told People:
I couldn't even imagine that pain. I've always felt the empathy and I've always felt outraged about it, but now that I have kids of my own, you just feel the devastation of it.
Keira Knightley
According to the Associated Press, Keira Knightley said that having her daughter, Edie, has given her more courage. While opening a Broadway play that she was finally acting in, after having passed it over several times due to her fear of failure, she spoke to the courage that having a child gives a mother, saying:
I think motherhood puts everything into perspective, I really do. I've been offered it a bunch of times and I've always gone, 'Well, this is scary and this is really difficult.' ... I'm very grateful to become a mother while doing something this unbelievably difficult, because honestly the worst that could happen is that you fail. ... Ultimately as long as my kid is all right, everything is fine.
Olivia Wilde
Olivia Wilde and her husband are now expecting Baby No. 2, and I'm expecting the hilarious mama to be just as real with fans as she was with her first, Otis. In a Shape article she penned, she wrote about wearing an "ice diaper" and being "softer than I've ever been, including that unfortunate semester in high school when I simultaneously discovered Krispy Kreme and pot." Can I just call her up and have her be my best friend when I get pregnant, please?
Beyoncé
I mean, really, though. Did this need saying? Even the famously private Beyoncé has shown her love for young Blue Ivy in her lyrics and music videos. One of the best messages Beyoncé could leave us with this Mother's Day comes from a letter she wrote to her mother, Tina Knowles, after becoming a mother herself. "Everything I am is because of you," she wrote in a letter published on her website. "Now that I'm a mother, I truly realize all the sacrifices you made for us."
Which brings us full circle, really. The love these mothers have for their children is a great reminder of what our mothers did for us as we grew up. Happy Mother's Day!