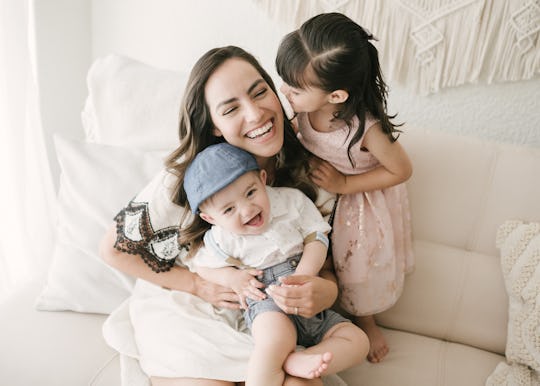 Shutterstock
6 Different Ways Children Learn They're Loved, According To Experts
One of the most important responsibilities we have as parents is let our children know they're loved. It's not necessarily a difficult challenge, as we generally have the necessary skills, but there are different ways children learned they're loved that us parents might not be completely aware of. As a result, sometimes we might forgo certain actions because we don't recognize their importance.
Romper spoke with Dr. Dyan Hes, M.D., a practicing pediatrician at Gramercy Pediatrics and Fellow of the American Academy of Pediatrics, and Dr. Kathryn Smerling, Ph.D., a psychotherapist practicing in Manhattan and specializing in creating meaningful relationships, to better understand how children learn they're loved, and what parents can do to facilitate more moments that remind our children, even if that reminder is subtle, that our love is unconditional.
Every child is different, so just like adults have different love languages — words of affirmation, acts of service, gifts, quality time, and touch, according to Dr. Gary Chapman, Ph.D., author of The 5 Love Languages — children might appreciate different forms and displays of affection as they grow older. By taking the time to get to know your child, you can find ways, activities, and moments to facilitate bonding and remind them that you love them. Again, it might seem intuitive, because loving your child is so effortless, but taking a moment to learn the following can ensure that our child or children never forget how much they're valued.