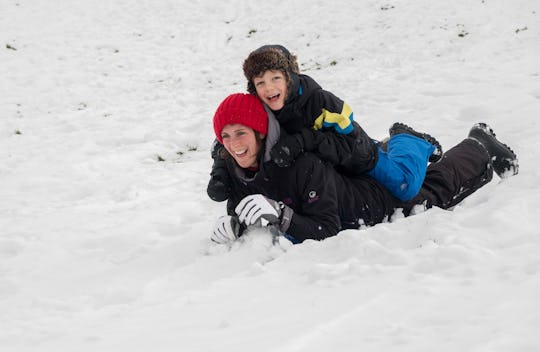 Matt Cardy/Getty Images News/Getty Images
Here Are 6 Signs You *Might* Be A Snowplow Parent, & What That Actually Means
From the moment our parenthood journeys begin, we hope for only the best of everything for our children: good friends, good grades, good jobs, happy memories. Naturally, we want to do what we can to help make that happen. But sometimes our best intentions go a little too far when it comes to helping our kids succeed. Could you be a snowplow parent? You might be, without even realizing it.
As explained by a much-buzzed-about article in The New York Times, snowplow parenting is the newest trend in childrearing styles. It describes parents who push aside roadblocks to their child's success in school, work, and life in general.
The most publicized (and extreme) case of snowplowing happened this past spring, when a group of wealthy parents were arrested on charges of using their money and influence to get their children into top colleges. Some of them bribed their way in, while others paid pros to take the entrance exams in their teens' place.
Most of us wouldn't go that far, even if we had that kind of cash and clout. But we've certainly all had our moments when we tried to keep our children from disappointment or setbacks. "We hate to see our children fail," says Dr. Michele Borba, parenting expert and author of The Big Book of Parenting Solutions.
"Snowplow parenting is all about intentionality; we may have the best of intentions, but it can backfire, because when we step in too often, our children can become too dependent on us and less resilient and self-sufficient."
Supporting and helping our children is part of our job as parents. But if any of the following rings true for you, especially if you do these on the regular, you might want to take a step back (hard as it is) and let your kids figure things out on their own.