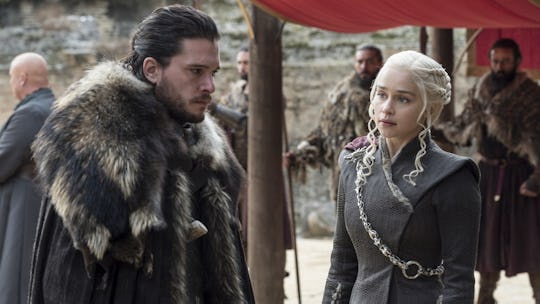 Macall B. Polay/HBO
Find A Name Worthy Of The Mother Of Dragons With These Last Name Generators
Just call me Shana GerraughtyAborn. Or Ciara Ni Chadhla. Or Tondlaogohe Yahhullim. Or Oceana Mariana. Or Scarlett Arathorn, Archduchess of Sussex. Thanks to the zillions of last name generators, you don't have to settle for the ho-hum name you were born with. Just plug in your name, or answer a few questions about your taste in food or music or whatever, and voila — your new identity is set!
Apart from the entertainment value of seeing a computer churn out imaginative monikers, name generators actually do serve a useful function. As the Word Counter Blog site explained, these sites are often used by writers looking for good names for their characters; if your book is set in a foreign country, you need that ring of authenticity. Or you might want to change your own name when you're writing a different genre of book than the one you're more commonly known for. (Think of Stephen King writing as Richard Bachman, or J.K. Rowling's pseudonym of Robert Galbraith, which she used when she submitted her first non-Harry Potter book to publishers.) Gamers turn to name generators for their online characters when they need just the right sound for their elf, wizard, or dragon.
Having a different name can also be useful for your social media account, if you don't want trolls knowing your true identity. Ditto if you're signing up for a website and aren't sure how secure it is. Performers joining unions such as Actors Equity or the Screen Actors Guild may opt to generate a new name either because their given name isn't distinctive enough, or because it's too close to the name of a more well-known celeb.
Curious? Check out these generator sites and see what new name strikes your fancy. (Just steer clear of Keya Zhuirentel — I'm claiming it for myself.)