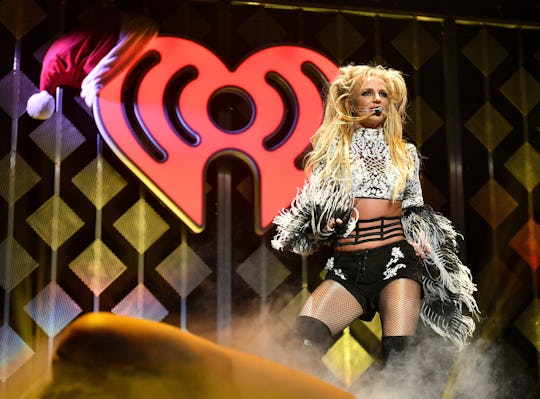 Mike Windle/Getty Images Entertainment/Getty Images
7 Britney Spears Songs That Lowkey Prepared You For Pregnancy
My teenage life was full contradiction. I loved learning but I hated going to school. I was boy-crazy but also a closeted feminist. I frequented and threw many parties but loved being alone at home doing absolutely nothing. My taste in music was contradictory, too. I rocked out to Garbage and Nirvana, while also genuinely enjoying Britney Spears, Christina Aguilera, The Spice Girls, and The Backstreet Boys. I was a typical teenager, lost somewhere between thinking I knew who I was and not having a clue. What I didn't realize, though, is how Britney Spear's songs lowkey prepared me for pregnancy, partly because I was legitimately terrified of getting pregnant in high school and partly because I wasn't at all baby crazy. Like, I didn't even know if I wanted to have kids, ever.
Britney Spears came into the pop culture scene when I was 16, also known as: the perfect age. Sixteen is the sweet spot of teenage life. I mean, you're not technically an adult, but you feel completely grown up and powerful and indestructible. When Britney appeared on my television screen — with braided pig tails, a school-girl uniform, and a look of innocence yet spice — I knew she was the girl for me. Her overt yet somewhat clandestine sexuality spoke to my core and elicited my inner voice. While some berated Britney for being way too sexualized, I celebrated her ability to show girls they were allowed to be open about their inner feelings and emotions.
I own all of Spears' records, in the now apparently antiquated CD format. Britney was and still is my soundtrack when I'm doing some ridiculously boring household chore (read: laundry) and I need something to motivate me. I fold the baby clothes and put away the 50 pairs of socks (how do these kids have so many socks?) and sing along and aloud the lyrics to every single one of her songs. Those lyrics are forever ingrained and protected in my mind. And as with most things in life, my brain is able to interpret these lyrics on a whole new level now that I've gained more experience. I'm sure Britney didn't intend to prepare me for my pregnancy and I never really thought she did, but on some lowkey level she totally did you guys.