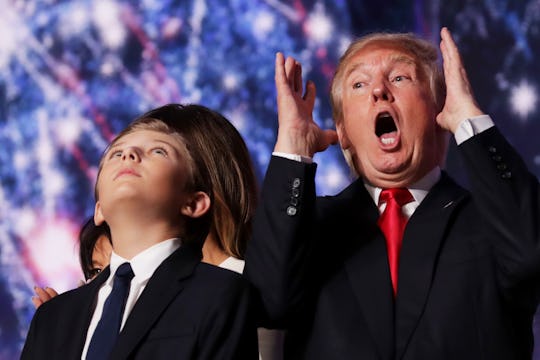 Chip Somodevilla/Getty Images News/Getty Images
7 Absolutely Infuriating Donald Trump Quotes About Parenting
If you're not a fan of the way President Donald Trump "takes care" of America, you probably won't be a fan of the way he "takes care" of his kids. Over the years, Trump has said some pretty infuriating things about parenting — and that doesn't include all the times he's made some pretty inappropriate comments about his oldest daughter, Ivanka. Trump has made it clear that he's not a hands-on parent on many occasions, even resorting to sexist excuses to defend himself for opting out of basic parenting activities, like changing diapers and pushing strollers.
In case you need a refresher, Trump has five children from his three wives. With his first wife Ivana Trump, he had Donald Jr., 40, Ivanka, 36, and Eric, 34. With Marla Maples, he had Tiffany, who's now 24. And with his current wife and first lady Melania Trump, he had Barron, 11, who lives in the White House with his parents.
Trump has made many a headline throughout his presidency for comments he's said about his children — not to mention, a slew of comments he said about his children in the past that have resurfaced since his rise in politics.
Here are seven times Trump has made some aggravating comments about parenting.
1. On Changing Diapers
"No, I don't do that," Trump said on the Opie and Anthony show in 2005, when asked if he changed diapers, according to Fortune. He continued in the same 2005 interview:
There's a lot of women out there that demand that the husband act like the wife and you know there's a lot of husbands that listen to that … I'm really like a great father but certain things you do and certain things you don't. It's just not for me.
2. On Why He Had Kids
In the same Opie and Anthony interview from 2005 when he was 59-year-old businessman at the time, according to BuzzFeed, explained that he wouldn't have had kids if he perhaps married someone different. According to BuzzFeed, he said:
If I had a different type of wife ... I probably wouldn't have a baby, ya know, cause that's not my thing. I'm really, like, a great father, but certain things you do and certain things you don't. It's just not for me.
3. On *His* Way Of Caring For His Kids
Fortune also noted that Trump opened up about his non-parenting parenting style in an interview with Howard Stern, also in 2005. "I mean, I won't do anything to take care of them. I'll supply funds and she'll take care of the kids. It's not like I'm gonna be walking the kids down Central Park," he said at the time, as per Fortune, adding:
Marla used to say, "I can't believe you're not walking Tiffany down the street," you know in a carriage. Right, I'm gonna be walking down Fifth Avenue with a baby in a carriage. It just didn't work.
4. On Parenting With Melania
In the same interview with Howard Stern in 2005, as noted by BuzzFeed, Trump explained that Melania would do most of the care-taking of their son Barron. According to BuzzFeed, he told Stern:
She would take great care of the child without me having to do very much.
5. On Whether Hands-On Parenting Is His "Thing"
In a different interview with Stern two years later in 2007, according to BuzzFeed, Trump was asked if hands-on parenting has ever been his "thing." Trump answered, "It probably should, but it never has." By this point, Barron was already around 1 year old.
Melania concurred with her husband in an interview with Parenting.com about five years later. "He didn't change diapers and I am completely fine with that. It is not important to me. It's all about what works for you," she told the website about Trump. "It's very important to know the person you're with. And we know our roles. I didn't want him to change the diapers or put Barron to bed. I love every minute of it."
6. On Feeling Proud For (Some) Of His Kids
On Election Day 2016, Trump made things pretty awkward by saying that he was proud of his youngest daughter Tiffany "to a lesser extent" than his other kids. According to Mashable, he said:
I'm very proud of my children. I mean, I'm just looking at them right now as an example... but I'm very proud 'cause Don and Eric and Ivanka and, you know, to a lesser extent 'cause she just got out of school, out of college, but, uh, Tiffany, who's also been so terrific. I mean, they work so hard.
Revealing your "favorite child" (or your least favorite child, for that matter) has been proven to strain relationships between siblings.
7. On Pregnancy Being An "Inconvenience"
In October 2004, Trump told Dateline that he thought a pregnant woman was nothing more than an inconvenience for her boss. According to NBC News, Trump said:
[Pregnancy is] a wonderful thing for the woman, it's a wonderful thing for the husband, it's certainly an inconvenience for a business. And whether people want to say that or not, the fact is it is an inconvenience for a person that is running a business.
Like most of Trump's policies and quotes in general, his parenting style is controversial and rife with archaic ideals. Every family is different, but many of Trump's ways certainly wouldn't fly with other parents back then, and especially now.
Check out Romper's new video series, Romper's Doula Diaries:
Watch full episodes of Romper's Doula Diaries on Facebook Watch.