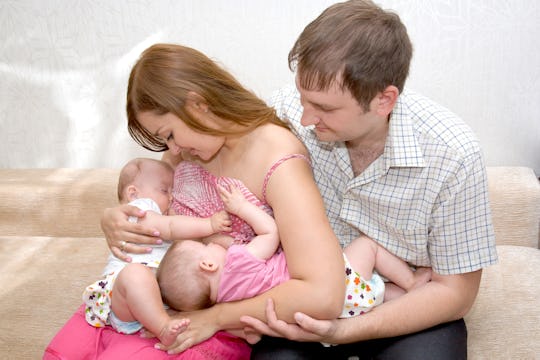 Vitalinka/Fotolia
7 Lowkey Irritating Things Your Partner Will Do When You're Breastfeeding
I had a love-hate relationship with breastfeeding. With my daughter, nursing didn't work out and I switched to exclusive pumping almost immediately. With my son, I was determined to make it work since I never wanted to go through the hell of exclusive pumping ever again. And after six weeks of struggling to breastfeed and working my way through a ridiculous amount of pain, I was finally successful. I fought through sore and bruised nipples, clogged ducts, and tongue tie, all while dealing with the lowkey irritating things my partner did while I was breastfeeding. And sure, my partner was super amazing most of the time, but he couldn't help but be annoying sometimes. I mean, I was mostly irritated by the fact that he didn't have to breastfeed at all, but also by the fact that he is a man and didn't have to deal with anything I had to deal with.
The thing is, your partner doesn't mean to be annoying. He or she want to be helpful and empathetic. But the fact that there is absolutely no way for the two of you to split breastfeeding responsibilities is ridiculously irritating. I mean, Greg Focker from Meet The Parents once said,"You can milk just about anything with nipples," so why can't every single man lactate yet? C'mon nature, keep up! But since we haven't evolved to the point where both parents are able to breastfeed the child (usually, although it does happen!), we are now stuck at the same place as we were always: being annoyed by our partner's antics.
Seriously though, breastfeeding was extremely difficult, and while it got a lot easier as time went on, I still remember it as a major struggle in the beginning. For me, breastfeeding was very painful and uncomfortable in the beginning, but very convenient and lovely towards the end. I sometimes miss the bond I had with my son while he nursed. I miss holding him in my arms and having his fall asleep as he ate. What I don't miss, however, are my partner's ridiculous antics of living a (mostly) perfectly normal life while mine got thrown upside down.