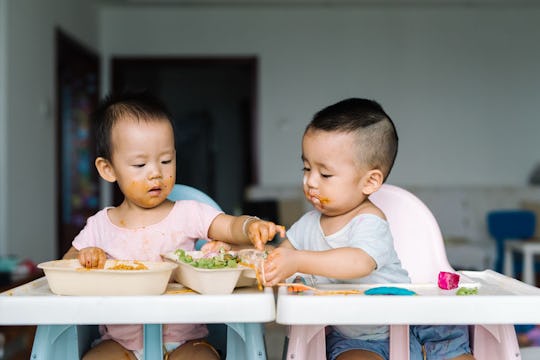 MaaHoo Studio/Stocksy
7 Old Wives' Tales About Having Twins That Will Leave You Shook
When you're pregnant or trying to conceive, you're sure to get all kinds of well-intended advice: what to eat (or not eat), how to fight morning sickness, how to stock the nursery. You'll also hear a lot of speculation on the baby's gender, and maybe even some old wives' tales that hint you're having twins, or about the best ways to guarantee a pregnancy with multiples.
As What to Expect reports, about 4 percent of births in the U.S. are multiples, with most of those pregnancies being twins. There are certain built-in factors that can increase your chances of having more than one, such as having twins in the family, undergoing fertility treatments (which involve taking hormones that stimulate ovarian production), being African American (they're slightly more likely than white women to have twins), and being an older mom (women over 35 produce more follicle-stimulating hormone, which makes a double egg release more likely). There's also one stat about twins that's not quite as fun: Parents of twins are slightly more likely to divorce than parents of singletons, according to a report in Reuters.
Whether you're already expecting twins, hoping to, or just want to salute the unique journey that is motherhood-with-multiples, you'll find these beliefs and myths about twindom fascinating (and some of them are actually true).