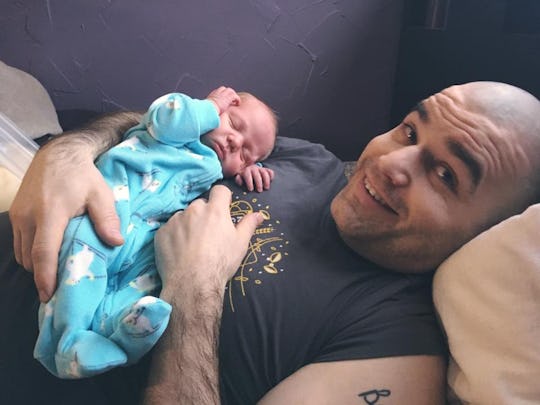 Courtesy of Steph Montgomery
This "Joke" We Make About Dads Is Not Funny & Seriously Harmful
Spend time in any mom group on social media and you're bound to come across a few jokes about dads. You know what I'm talking about: half-hearted attempts at comedy that make dads out to be clueless, lazy, and hopelessly inept parents. I'm over it. There are so many reasons why, as moms, we need to stop joking about clueless dads. These jabs aren't funny, are often untrue, and always perpetuate undeniably harmful stereotypes about gender and parenting.
Now, I'm not saying that dads don't deserve our criticism. There's a reason these problematic jokes exist, and that reason is valid. Generally speaking, moms shoulder more parenting responsibilities than dads, even when they also work outside the home. A study published in the journal Family Relations found that while dads are more involved parents now than they have ever been before, new moms devote twice as a many hours a week to parenting tasks when compared to their male counterparts. I would like to believe that my husband and I do things equally, but we don't and regardless of how hard we try to keep things fair. There is a very real labor disparity, and I'd be lying if I said it didn't hinge on gender.
The problem of gender inequity won't end if we simply stop telling jokes about clueless dads. But it's a step in the right direction, and one we should all be willing to collectively take. Reducing gender inequality to something we all just laugh at does nothing but normalize the idea that dads shouldn't be involved parents and, when they are, they gets points for simply attempting to be present or responsible. We continue to perpetuate the notion that dads can't be equal parents, because as dads they literally don't have the knowledge, skills, or abilities to do it. That's the kind of messaging we should be combating, not fortifying.
Of course dads can do things like cook meals, change diapers, do their daughters' hair, and stay home with their kids. And we shouldn't give them a trophy when they succeed at the most basic parenting tasks. Do I think that fed up moms deserve to blow off steam once in a while? Absolutely. Hell, I need to vent on occasion. But instead of joking about how acceptable it is for your co-parenting partner to continue to suck at the parenting tasks he is fully capable of doing, I suggest we start demanding more from our parenting counterparts. Our male partners, our kids, and we, as moms, deserve better.