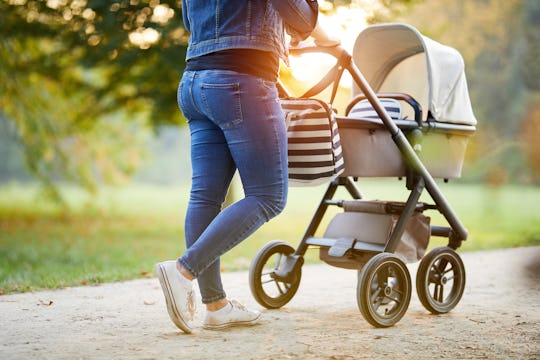 Rostislav Sedlacek/Fotolia
7 Hilarious Signs You're Not Cleaning Your Baby's Stroller Enough
I'd like to think I'm pretty good about cleaning my kid's highchair and bath tub on the regular. But the stroller? Eh, not so much. I've turned a blind eye to, shall we say, "stroller hygiene," so it's safe to say some rogue Cheerios have lingered. I don't know why I dread cleaning the stroller so much, but the struggle is real. Turns out, there are more than a few signs that you're not cleaning your baby's stroller enough, because let's be honest: no one really is.
My family's old, weathered doublewide stroller has been through a lot. It's been man-handled through baggage checks, heaved in and out of the backseat of our car, and run through every imaginable weather. My two girls have spilled their sippy cups, smooshed peanut butter and jellies, and squirted yogurt, ketchup, and any number of pouches. I have forgotten soiled clothing and wet swaddles in the bottom of the stroller basin. Yet the moment when our stroller really went down hill (pun intended!) was when I spilled an entire latte in one of the back flap pouches and just sort of wiped it down with a towel. That was the moment when I should have been stripping off the fabric for a deep clean... but that moment passed!
Is it any wonder that I'm eying this beautiful, lightweight doublewide as a much-needed replacement ($200, MyBabiie)? If the idea of buying a new stroller is more appealing than rolling up your sleeves and cleaning your current one, then this list is for you.