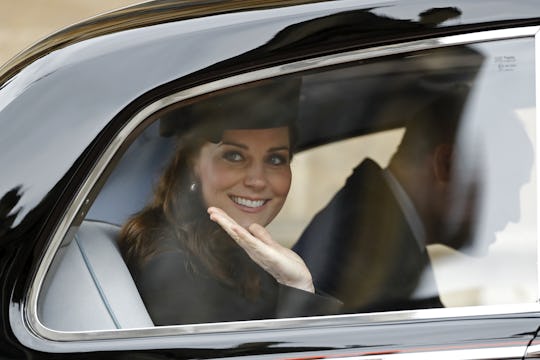 WPA Pool/Getty Images Entertainment/Getty Images
7 Surprising Facts About Kate Middleton As She Prepares For Baby No. 3
Ever since the royal wedding between Prince William and Kate Middleton, the commoner-turned-Duchess has been very much in the public eye. Because she lived the first half of her life (aka her life pre-Prince William) out of the spotlight, there are plenty of surprising facts about Kate Middleton that fans of the royal family don't know. And with baby No. 3 due to arrive sometime this month, now seems like the perfect time to get to know Middleton a little better.
Whispers of a relationship between Middleton and Prince William first began in 2003, when they were both students at the University of St Andrews in Scotland, according to The Telegraph. Middleton was quickly targeted by inconsiderate paparazzi and reporters — but she stuck it out so she could stay with Prince William.
Needless to say, things worked out for her and Prince William. After getting engaged in 2010, they tied the knot in 2011. They then welcomed their first child, Prince George, in July 2013, and their second child, Princess Charlotte, in May 2015. Life as a full-time royal and mother-of-two has certainly been busy for Middleton — but she's so much more than a duchess and a mom.
Here are seven things you may not have known about Kate Middleton.
1. She Is A Huge Fan Of Downton Abbey
When you're as famous as Middleton, it's not uncommon to get an invite to the set of your favorite show. In 2015, the Duchess got to visit the set of her favorite show, Downton Abbey. She also got to meet some of the cast, as reported by E! News at the time.
2. She Graduated College With A Degree In Art History
As noted by The Telegraph, both Middleton and Prince William studied art history at St Andrews. While her husband switched gears and wound up majoring in geography, Middleton stuck it out and graduated with a degree in art history.
3. She Had A Pretty Cool Career Before Becoming A Full-Time Royal
Her art history degree may or may not have come in handy at this post-college job... Middleton reportedly worked as as an accessories buyer for Jigsaw, a British fashion brand, according to The Independent. Considering her fabulous sense of style, it's no surprise that she has a background in fashion.
4. She Also Had A Few Gigs Working For Her Parents' Business
Middleton's parents own a party supplies business called Party Pieces, that her mom started when Middleton was just 5 years old. As a child, Middleton and her sister Pippa both modeled for the company's catalogues, according to CNN. Later, Middleton helped her parents grow the business by launching an offshoot called First Birthdays that centered around babies' birthday parties. Additionally, thanks to Middleton, Party Pieces began working with Starlight Children's Foundation, a charity that "brings joy and comfort to hospitalized children and their families," according to the organization's website.
5. She Doesn't Ride Horses
Despite the Queen's love for horseback riding, Middleton is never seen riding horses, instead opting to sit in the carriage portion of horse-drawn carriages, as noted by Town & Country. A rumor has floated around for years that Middleton is allergic to horses. However, Marcia Moody, author of Kate: A Biography, came up with another theory: "Kate doesn't ride, purely because didn't do it growing up," Moody told Town & Country in 2017. "William and Harry were taught from an early age, but the only time they ride now is for polo—they don't go off on hacks like the queen always has."
6. She Has A Sporty Side
She may not currently have as much time to show off her athletics side as she did when she was growing up, but Middleton is reportedly quite the sports enthusiast. The Duchess reportedly has a history of playing tennis, playing field hockey, running cross country, swimming, skiing, and rowing crew, as per Shape. She also regularly attends her husband's polo matches.
7. She Is A Skilled Photographer
Instead of hiring photographers to commemorate her children's milestones, Middleton often gets behind the camera herself. People have come up with many theories as to why Middleton has taken on this hobby, with some believing that it is part of her goal to be more resourceful with money, as per the Daily Mail. It shouldn't be a surprise that Middleton is a natural behind the camera, taking into account her art history degree. Not to mention, the Royal Photographic Society dubbed her an honorary member last year, as reported by Hello.
There's so much more to Middleton than what's on the surface, and it's great that despite her busy schedule as a royal and a mama, she still finds time to practice her hobbies.