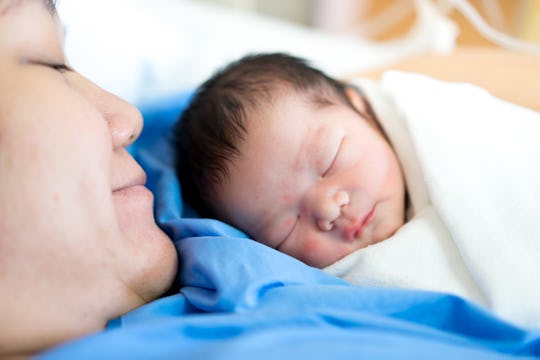 alice_photo/Fotolia
7 Things I Needed During The Golden Hour, But Was Straight-Up Terrified To Ask For
The golden hour is an important time for babies and mothers alike. The minutes following delivery can prove to be largely beneficial, but only they happen and aren't interrupted. Not everyone is able to spend one-on-one time with their newborn directly after they're born, and then are those of us that do, but end up feeling so exhausted and overwhelmed that the reality of our baby's first hour of life fails to live up to our expectations. I know there are a few things I needed during the golden hour, but was simply too afraid to ask for. Now, when I look back on the moments that directly followed the birth of my daughter, I wish I had spoken up.
In the hour after my daughter was born, the doctor laid her on my chest just long enough for someone in the room to take a couple photos. Then the nurses whisked her away for cleaning and measurements while I started down that long road known as childbirth recovery. I don't know how long they kept my newborn away from me — it felt like a long time — but by the time they returned to place her in my arms, she felt like a tiny little stranger. This little person I'd met for only a moment before she was cleaned up, didn't feel familiar. In the end, I think the doctors and nurses kept her away from me for too long, and I didn't have the opportunity to feel close and connected to my baby after I had endured the trails and tribulations of bringing her into the world.
Eventually we bonded and did the skin-to-skin contact thing, and all that, but I can't help but feel robbed of the experience of the beautiful, serene, emotional first hour of my daughter's life. So with that in mind, here are some things I needed during the precious golden hour, but couldn't muster the strength or courage to ask for myself.