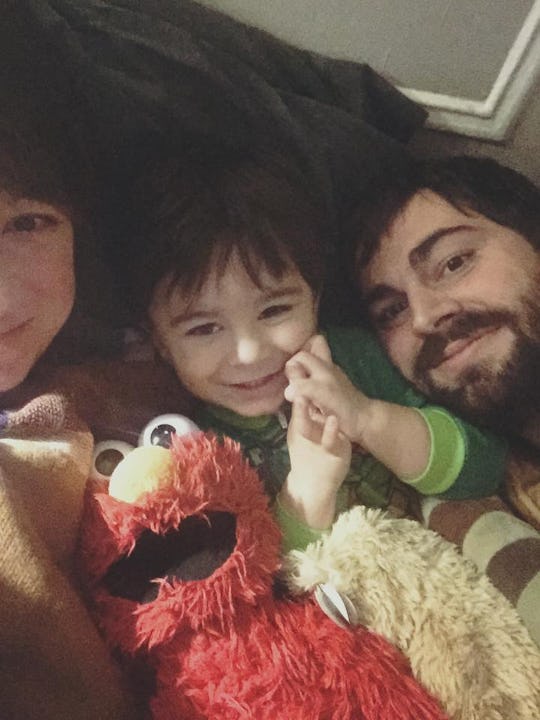 Courtesy of Danielle Campoamor
7 Times Co-Sleeping Actually Saved My Relationship
The moment I found out I was pregnant, I knew my relationship with my partner was going to change. I had no idea, however, just how much it would change: and in a really, really good way. Yes, we argue about really ridiculous things now (like who is the best muppet on Sesame Street) and what we consider to be "sexy" has evolved (night in with Netflix, duh), but we've also managed to cultivate a healthy relationship in the middle of all that parenting. In fact, there have been times co-sleeping has actually saved my relationship and, if I may be so bold, elevated it to the level I am currently enjoying.
Now, I'm definitely not about to position co-sleeping as the cure-all for any ailment that may befall your relationship. Romantic partnerships are work, no matter how you slice it, and require a lot more dedication than simply putting your kid in your bed. However, I will go so far as to say that if it weren't for co-sleeping, my partner and I would have been sleep-deprived disasters for the better part of our son's first year of life. Instead, we were just sleep-deprived messes, and you can deal with a mess far easier than you can deal with a disaster. Just sayin'.
So thank you, co-sleeping. Thank you for giving me a few more minutes (and sometimes hours) of sleep when I needed it. Thank you for calming my new-mom anxiety, so that I could focus on my baby and my partner. Thank you for essentially saving my relationship from sleep-deprived arguments, because no one needs that in their life. Just, well, thank you.