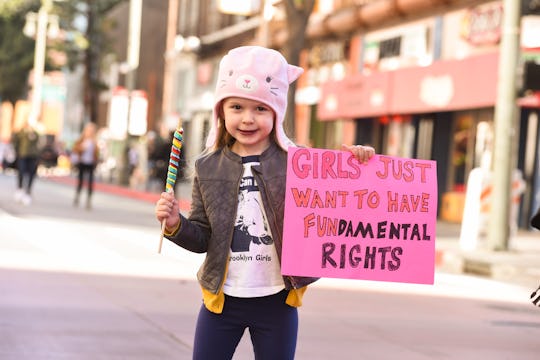 Presley Ann/Getty Images Entertainment/Getty Images
7 Ways Having A Toddler Taught Me The Importance Of Advocating For Others
Honestly, I really don't think I've changed all that much since having children. I'm the same snarky yet earnestly enthusiastic bleeding heart I've been since as far back as I can remember. But having children did, understandably, give me a different perspective on some things. Indeed, having a toddler taught me the importance of advocating for others. Well, less "taught" and more "highlighted new ways" that advocacy is important.
To be a parent is to be your child's advocate, but let's be clear: being a parent and being an advocate for someone you're not actively raising are two very different things. Yet I have to admit that there's some degree of overlapping motivation, including compassion, love, a sense of fairness, and a sense of looking at someone and realizing we can and must do better.
And, again, it's not like I was some insular, selfish monster before I had toddlers and it was only through parenthood that I was able to give a crap about other people. But I think there's something about not just knowing humanity will extend beyond you but seeing exactly who will be part of that humanity that can kick your butt into gear. It's like, "Oh. Right. Everything I want to do for the world really needs to be done ASAP because the next generation is already here and there's a lot that needs solving."
So with that in mind, here are some of the ways my toddlers (and the arduous yet rewarding task of raising them) encouraged me to try to do more for others: