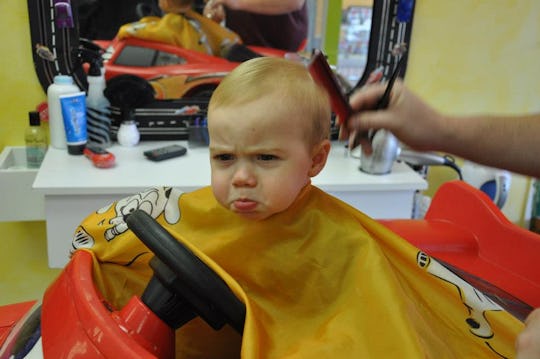 Photo courtesy of Jamie Kenney
If You Need Your Kid To Sit Still For A Haircut, Here's What To Do (& Not Do)
My son — a sweet, loving, smart, funny, energetic, and lively child — has always also been what you might call persnickety... blame it on his Virgo birthday, maybe. Anyway, the boy has always been overly-fussy about random things, and perhaps no single issue has been a bigger issue than haircuts. While things are fine now, at the age of 7, it took years of concerted effort to get him to this point. So, if getting your child's haircut is a nightmare for you, allow me to share some of my hard-won experience and give you some tips for your child's haircut.
So here's the thing with each of the things I tried: For the most part, they all worked once. Maybe twice. And then my child wised up to my ploys and I'd have to try something else. (In addition to being persnickety he's also intensely mercurial.) The main thing that helped him ease into haircuts was time and maturity, which is not really something I have any control over... at least not until I get this damn flux capacitor into the DeLorean...
But you know what? I got through and, damnit, so will you! I believe in you! I believe in your kid. And maybe, just maybe, some of the things that (temporarily) worked for me will work for you.
Oh, and as for the tactics that didn't work for me? Those you should probably just go ahead and avoid. Learn from my mistakes, people.