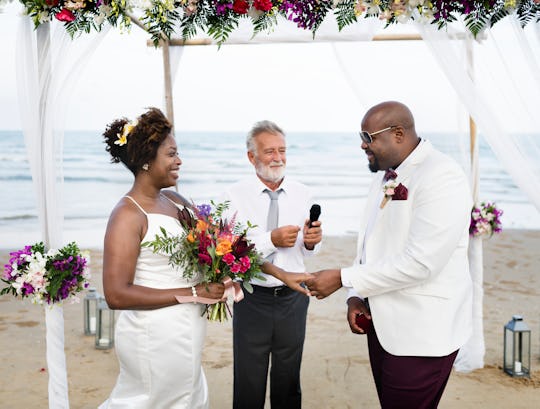 Rawpixel/Shutterstock
These Ideas For Including Kids In Your Wedding Vows Are Guaranteed Tearjerkers
Weddings are wonderful occasions to begin with, but they take on an added layer of meaning when the couple either have children together or from previous relationships. For them, the day isn't just about becoming spouses; it's about becoming a family. With that in mind, many couples may want to include their children in their wedding vows as a part of the ceremony.
There are many other ways to incorporate kids into a wedding, of course: putting them into the bridal party; giving them special jobs such as holding the guest book or helping guests find their table at the reception; having a parent/child dance to a favorite song; letting them give a speech. But making them a part of the vows is an even more significant gesture. It affirms the parents' commitment to the family — be it established or blended — and in many cases, allows the children to do the same. In the case of blended families, it can also help ease any insecurities the children may have about the new stepparent(s) and their place in the new household. And for vow renewals, it acknowledges the part that the children have and will continue to play in the marriage.
Below are a few of the sweetest suggestions for vows that include a couple's children. If you opt to use any of them, be sure to have extra tissues handy at the ceremony; between you and your guests, it's guaranteed that there won't be a dry eye in the place.