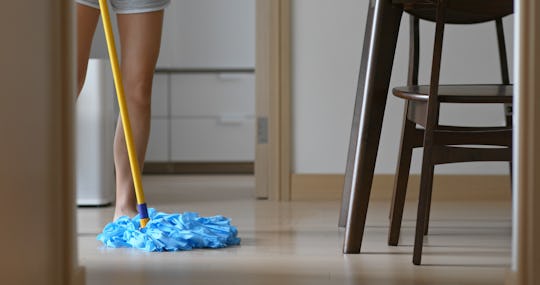 Shutterstock
8 Gross Things You're Doing Wrong In The Kitchen That'll Probably Surprise You
Keeping your kitchen clean is a 24/7 job, especially when you have kids. After you've scrubbed every inch of your counters, your little ones can come wreak havoc on your pristine palace in a matter of moments. Plus, there are likely gross things you're doing wrong in the kitchen that you don't even know about.
The kitchen is likely the room you clean most in your home, second only to the bathrooms. It's the place you prepare food for your family, so you have to be super conscious of germs every time you step foot in there: wash your hands, wash the kids' hands, bleach everything, etc. It can feel like a never-ending responsibility. (Although, there is such a thing as being too clean, as not exposing your kids to germs can actually hurt them in the long run.) But there are a surprising number of things people do every day that are actually really unsanitary, putting them at risk of spreading bacteria. Even the most germ-conscious types might not know about some of these no-no's.
Read on for gross things you're likely doing wrong in the kitchen; they may make you want to rethink your cleaning routine. It's all about keeping your family healthy and safe.