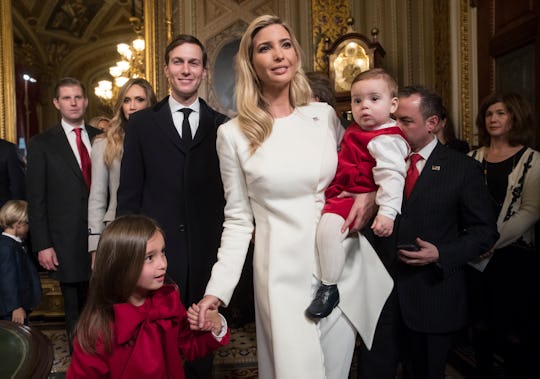 Pool/Getty Images News/Getty Images
8 Ivanka Trump Quotes About Parenting That Are So Different From Her Dad
Even though Ivanka Trump is best known for being the daughter of a certain reality-show-host-turned-POTUS, she's also had a slew of careers: as a model, as an advisor to the president, and as the owner of her eponymous fashion and jewelry line. Plus, Ivanka is a mother of three children along with her husband Jared Kushner, who is also an advisor to President Donald Trump. And while, recently, she's often made headlines for her quotes on policy and controversial issues, Ivanka Trump has also said many things about motherhood and parenting over the years.
Ivanka and Jared's children are Arabella Rose Kushner, 6, Joseph Frederick Kushner, 4, and Theodore James Kushner, who is nearly 2. Ivanka gave birth to Theodore in March 2016, according to NBC News. She was pregnant during the throes of Trump's presidential campaign, and she continued to campaign for her father as she approached her due date. When she visited a New Hampshire elementary school during the primary election about a month before she wound up giving birth, according to NBC News, she joked "I'm sure there are great hospitals around here."
Ivanka is clearly smitten with her brood. Many moments of motherhood are documented on Ivanka's Instagram, including Theodore's first time crawling (which was at the White House), Arabella learning how to play piano, and general playtime with the kids. She seems to have quite a different outlook on parenting than her dad, who has made endless infuriating comments about his role as a parent.
Here are eight times Ivanka Trump has opened about motherhood.
1. On Sacrificing Time With Her Kids For Her Career
In October 2016, Ivanka opened up to Town & Country about how she balances work with family life:
People talk about balance. Balance is an awful measure of things, because it implies a scale that inevitably tips. I like to look through the filter of 'Is the life I'm leading consistent with my priorities?' For me, my family is the ultimate litmus test ... Do I feel I'm giving my children what they need? But I don't do everything. I wouldn't be able to do what I do professionally if I did. I don't go to the afternoon classes. I don't take my son to the sports playgroup in the middle of the day. For some people that's a compromise they aren't willing to make, and I respect that.
2. On Life With 3 Young Kids
"My life is chaotic right now ... I'm exhausted 90 percent of the time," Ivanka, told People in July 2017. "Being a mother is the most rewarding experience, but also the most wild and stressful."
She added that the adjustment was a challenge. "We're acclimating to our new reality of having three babies at home. So it always takes a little while to adjust and find your family's new rhythm," she said, according to People.
3. On Spending Time With Her Kids
"I love gardening with the kids, so that's something I have a lot of fun with ... We produce a lot of produce. We've got tomatoes, strawberries. It's so much fun, I never grew up doing this," she told People.
Living a life as a socialite in the public eye ever since she was a kid, it's not too surprising that Ivanka didn't spend much time in a garden with her parents. And given past quotes about Trump as a father — he once admitted to not changing diapers, according to BuzzFeed — it's also not much of a shocker that Trump himself didn't get his hands dirty and spend time with her planting vegetables...
Nevertheless, Ivanka clearly enjoys this pastime with her own kids, telling People:
One of the things [my husband and I] enjoy the most is cooking: I love to cook and he loves to eat. I always viewed a meal as a failure if people were still hungry by dessert because I would make so many different things, but Arabella loves dessert so we now start backwards.
She added that Arabella enjoys helping her in the kitchen. "That's something we enjoy doing together," she said, according to People.
4. On Trying To Make Sure Each Of Her Kids Feel Equally Loved
She also opened up to People about scheduling special time with each of her children, explaining:
I think everyone has to work extra hard to make the older siblings feel loved and secure of their place when you're going through a time of transition ... I try to carve out special time with each of them. Joseph loves playing with cars. Arabella could read with me for hours. Poor Theo. He's always the one where they're interrupting his time with me. But ultimately I think it will be good for him.
5. On Work-Life Priorities
In her book Women Who Work: Rewriting the Rules for Success, Ivanka explained that even when she is prioritizing work, she will change gears and prioritize her kids if need be. According to Working Mother, Ivanka wrote in her book:
If I am negotiating a major partnership, I might work three weeks straight. If I'm planning a work trip, I know not to book something the night before I leave or after I return because I want to spend time with my family. Then I have other moments, like if one of the kids is sick, that completely change the dynamic of the day (or the week!). It's about taking a bigger-picture approach and creating a routine that works for you and your family.
6. On Appreciating Her Parents More Now That She's A Mom
In October 2015, Ivanka spoke at the Fortune Most Powerful Women summit in Washington, D.C. As reported by E! News, she told the crowd that her father was an "'exceptional' leader and an 'unbelievable' parent." With a low approval rating of 35 percent right now, according to Slate, it's safe to say that quite a few Americans who would disagree with her about Trump being an exceptional leader... Anyway, according to E! News, Ivanka explained how being a parent has made her appreciate her own parents more:
I think now, more than ever, having children of my own, I think, you know, when I was 15, I was a little less appreciative. Now I realize, it's really hard. It's really hard to raise your kids with the right values and to give them the right moral compass and to instill in them a sense of drive and work ethic and passion for whatever it is that they want to do ... So I feel very grateful to have had the parents I had...I'm amazed by him.
7. On Loving The Hectic Lifestyle Of Being A Parent
In an interview with Fit Pregnancy and Baby, Ivanka opened up about how she's grown accustomed to the fast-paced parenting lifestyle. She told the outlet:
Motherhood has affected everything in my life. From a work perspective, I'm highly efficient. I do a lot more and I've never been busier, but I can get things done in a lot less time. So efficiency becomes key ... I look back to five years ago, and I think, "What did I do with all that time?" ... Once in a while, I'll have a moment when I'm traveling for work. I'm in a hotel room somewhere, and I'm drinking a coffee and reading a newspaper, alone and in a leisurely fashion before my day gets started, and I'm thinking, "This is incredibly civilized, but it's way more fun being home amidst the morning chaos." I kind of love it in that moment, but I prefer the hectic alternative.
8. On The Importance Of Motherhood
In a 2016 commercial for her father's presidential campaign, Ivanka said: "The most important job any woman can have is being a mother." The ad briefly detailed Trump's child care proposal, which gave mothers six weeks of paid leave.
As Romper — and other outlets, including Fortune — explained at the time, the policy did not apply to new dads or to adoptive parents, implying that both Trump and Ivanka seem to believe childcare is a mother's job. It's great that Ivanka loves being a mother, but not so great (not to mention, regressive) to look at parenting in this way.
It's clear from her statements about motherhood and her frequent posts of her kids on social media that Ivanka is very passionate about being a parent to her three little ones. If only her father's past quotes could say the same.
Check out Romper's new video series, Bearing The Motherload, where disagreeing parents from different sides of an issue sit down with a mediator and talk about how to support (and not judge) each other's parenting perspectives. New episodes air Mondays on Facebook.