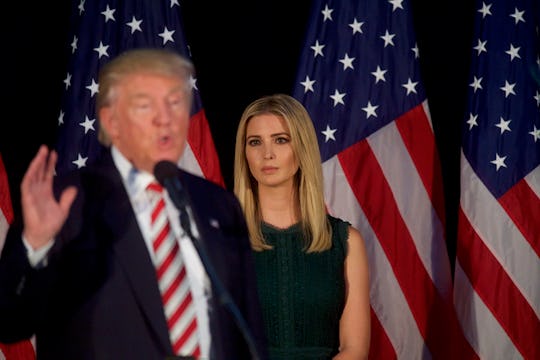 Mark Makela/Getty Images News/Getty Images
Trump Ad Says A Woman's Most Important Job Is Motherhood, & It's Incredibly Condescending
When it comes to examining Donald Trump's tumultuous, oftentimes toxic, relationship with women, it's hard to know where to start. Perhaps within the past week, when he implored his Twitter followers to check out a (nonexistent) sex tape supposedly featuring detractor Alicia Machado, the 1996 Miss Universe winner who accused him or shaming her for gaining weight. Or when he admitted to watching the actual sex tape of Paris Hilton, whom he's known since she was 12. Or we could jump to the new Trump ad that says a woman's most important job is motherhood, an incredibly condescending stance that reinforces exactly how much the Republican presidential candidate values half the population.
The ad, featuring Trump's older daughter, Ivanka, is part of a $7.5 million ad buy, according to The Washington Post, likely targeting college-educated white women, with whom he is polling abysmally. Considering the blatant sexism that permeates it, though, it may struggle to achieve the desired effect. Romper reached out to the Trump campaign for comment, and did not immediately hear back.
"The most important job any woman can have is being a mother, and it shouldn't mean taking a pay cut," Ivanka Trump, 34, says as the 30-second spot, released Friday, opens. Donald Trump, the mother and entrepreneur continues, "understands the needs of a modern workforce," and would enact policies to "allow women to support their families and further their careers."
In addition to the vague promise to "change outdated labor laws so that they support women and American families," the main policy proposal Ivanka Trump raises in the ad is Trump's much-criticized child care plan, which she personally helped him unveil in September. The plan would make child care tax deductible for couples earning less than $500,000 each year, or individuals making less than $250,000.
It would also offer six weeks of paid leave to mothers — not fathers — when a family welcomes a child. Ivanka Trump later said that the leave was intended to help mothers recuperate after childbirth. The glaring hole in that defense is that the plan does include adoptive mothers, leading to the logical conclusion that Trump truly does believe that children should be the responsibility of their mothers alone, and that, truly, being a mother is the most important job women could possibly do. Makes sense, coming from the Trump campaign, because this is the man who once said pregnancy is "certainly an inconvenience for a business."
Democrat Hillary Clinton is also determined to firmly position herself as the only reasonable choice for women, both those who are mothers and those who aren't. So, the day after Trump's ad came out, her campaign released its own, a montage of Trump's saying nasty things to and about women. The title? "Having Fun," because that's apparently how Trump classifies moves like calling an employee "disgusting" for wanting to pump breast milk at work.
Regardless of Trump's naked disdain for women and faux admiration for childrearing, it's worth noting that parenting, while tough and essential, is not, in fact, a job. Merriam-Webster defines a job as "the work that a person does regularly in order to earn money," and bringing up one's own children generally does not fit that second criterion. That's not to minimize the important role mothers — and fathers! — play in a child's life when they're present and involved. But it is crucial to point out that categorizing motherhood (and not fatherhood) as a job diminishes women's contributions to the workforce, as well as stigmatizes fathers who opt to stay home with their children.
Parenthood is an around-the-clock duty that manifests in so many more forms than any one person, especially a gloatingly hands-off dad like Donald Trump, could envision. It's not a status that exists to pigeonhole people, or a bargaining chip to be used by wealthy politicians to enforce tired gender stereotypes. Parenthood, as well as working outside the home, fits equally on women and men and it can be the most important dedication of either mothers or fathers. But it certainly doesn't have to be.