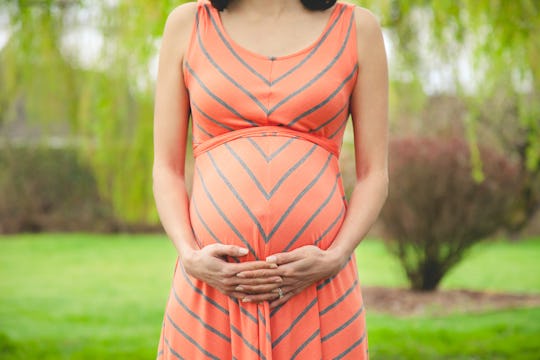 Courtesy of Jenni Muehlenbruch
8 Reasons Why You Shouldn't Call Me "Beautiful" When I'm Pregnant
Segovia Amil said, "True beauty is not of the body or the face, no — it is a thing of the soul — of fire and air, breath and spirit, something brave and unafraid." I would argue that true beauty is not of the pregnant belly, either. I'm not saying pregnant women aren't glorious. They are, but whether someone thinks so shouldn't matter. So, honestly, there are more than a few reasons you shouldn't call me "beautiful" when I'm pregnant. No, really.
I'm not saying I don't appreciate a nice compliment. I'd just prefer that it have something to do with an attribute other than my looks. When I was pregnant my appearance was all people could seem to talk about, though, and especially how much better I looked with a little weight on me. All that made me feel was that I wasn't beautiful before I decided to grow a human being inside my body. And perfect strangers telling me how beautiful I looked? Well, that just made me uncomfortable.
What I really appreciated was people like my husband, who sent me a stunning bouquet and told me what a fighter I was, and my sister, who burst into tears when she saw my baby bump — not because I was so beautiful but because that was her "daughter-niece" in there.
If you think I'm beautiful when I'm pregnant, that's cool. Just know that it's all the same to me and for the following reasons: