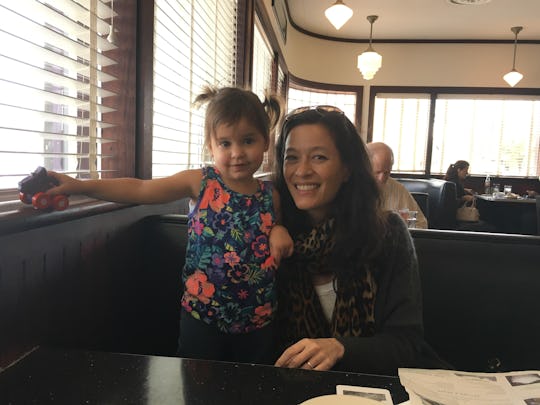 Courtesy of Kimmie Fink
10 Moms Share The One Characteristic That Makes A Sis A Great Aunt
My daughter has an abundance of amazing aunts. Three are related by blood and six by marriage. In Vietnamese culture, we use "auntie" pretty freely, so all my cousins are considered aunts, too. We have our Army family, my girlfriends from high school, and special ladies in our mommy group. She's certainly not lacking in strong female figures in her life, but I'd be remiss not to recognize the special role my sister plays. I figured I wasn't alone, so I asked moms to reveal the one characteristic that makes their sister their kid's best aunt.
My sister and I are 13 months apart to the day. Many people have mistaken us for twins (including her adorable mother-in-law). It probably doesn't help that we joke about our time in the womb together, to which our mother always responds, "How many times do I have to tell you you weren't in there at the same time?!" We were great playmates as kids, bitter enemies as tweens, and distant as teenagers, but we're best friends as adults. I think our relationship changed once we realized that we were better as a team — one fully functioning human being between the two of us. Is it any wonder then that she calls my kid her "daughter-niece?"
I think what makes my sister so great is her coolness factor. She'd give Pharrell a run for his money. My sister always has a line on the best books, TV shows, movies, and music. Her wardrobe is on point. She saves wildlife for a living. In other words, she's my goddamn hero. As an aunt, she's the kind of person who will run around the backyard with my daughter yelling, "Whoop whoop whoopity-whoo!" until they collapse on the lawn in hysterical laughter. She finds the best gifts, from an actual fox skull for baby girl's woodland nursery to a stuffed doughnut cat baptized by a hipster. She's the sh*t, and moms like me are fortunate to have our sisters by our sides.