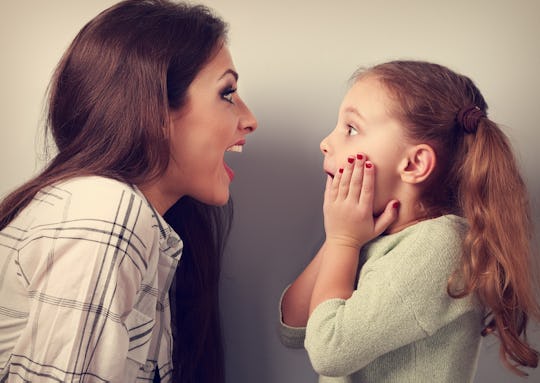 Fotolia
8 Reasons Why You Shouldn't Worry About Swearing In Front Of Your Kids
I'm a big fan of four letter words, and use them rather frequently. Of course, I am aware that certain situations are and are not appropriate for said words, but when I'm in the comfort of my home, talking to friends, enjoying a happy hour with coworkers or watching a football game, I'm peppering my sentences with some, um, rather colorful language. Sometimes, in the aforementioned situations, my son is around. Still, I don't worry about swearing in front of my kid and, honestly, I don't think you should worry about cussing in front of your kid, either.
Of course, there are "right" and "wrong" ways to go about evoking those four letter words. While I'm usually not one to tell others how to act or what to say or even what to think, I would like to assume we can all agree that calling other people names or using certain words to demean, degrade and otherwise hurt others, is never OK. While I will let a cuss word fly around my kid (especially during the NFL regular season because hello stress), I will never use one directed at or toward him. Same goes for my partner, or any one else in around me. I don't want my son to attach a moral implication to words (as I don't think there's such a thing as a "good" or "bad" word. They're just words.) but I do want him to know that you can use said words in appropriate or inappropriate ways.
So, no, I won't be turning "shit" into "shoot," or "damn" into "darn," anytime soon. My son is going to learn about cuss words and, like most of the lessons I hope he learns as a young person, I want to be the one to teach him. For that, and the following reasons, I just don't worry about cussing in front of my kid.