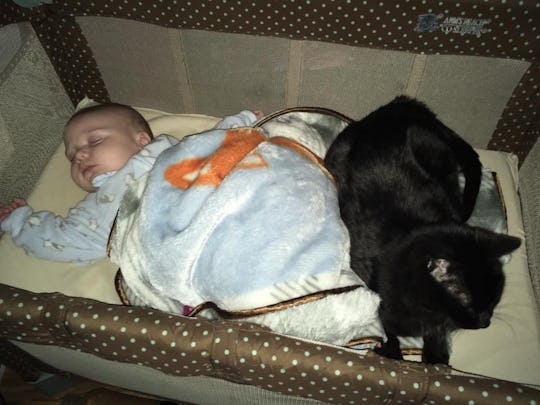 Courtesy of Steph Montgomery
8 Signs Your Pet Is Trying To Tell You You'd Be A Great Parent
Right after I moved in with the person who would become my first husband, we rescued a tiny kitten. Our veterinarian estimated that she was only about 3 weeks old, so we had to feed her with tiny bottles of kitten formula and teach her how to use the litter box. I remember joking that we were ready to become parents (hint: we weren't). And over the years I've learned that there are actually quite a few signs your pet is trying to tell you you're going to be an amazing parent. You just have to pay attention.
While I think having a so-called "fur-baby" is very different than having an actual human baby, in some ways it's pretty good practice. I like to think that when my cat vomited all over my bed or pooped outside their litter box, they were really just giving me some much-needed experience dealing with gross stuff. And when they cried at night because they were lonely, and wanted to snuggle during thunderstorms, they were just showing me how nurturing and caring I could be. I mean, the love that I have for my cats and my babies pretty much exceeds my love for anyone else. Who else will I let sleep in my bed, steal my covers, and occasionally bite me, without it impacting my love for them? No one. The answer is no one.
In so many ways, my cats taught me how to love unconditionally; a great prerequisite for motherhood, if you ask me. They also told me that I was going to be a great parent.