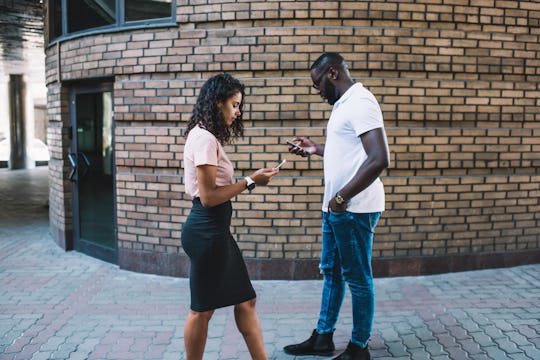 Shutterstock
8 Things That Aren't Dealbreakers In Your 20s, But Definitely Are In Your 30s
Ah, for the days when dealing with boys was simple: They all had cooties, so we kept our distance. Yet even when we grow up and start looking for a partner, we still maintain a certain level of choosiness. They have to look a certain way, or earn a minimum salary, or share our love of The Walking Dead. Those parameters change, though, as we get older. That's why some things that aren't dealbreakers in your 20s definitely are in your 30s.
What accounts for the change? "There's a level of freedom and independence that we step into as we go from the post-college 20s to the 30s," explains certified love-life coach Lisa Concepcion, founder of Love Quest Coaching. In an email interview with Romper, she adds, "We mature and want to create our own lives without the influence of our parents. Also, around 30, [many women] want to be a mother. This is why we see more women aged 30 dating men 10 years older, who are more established and ready to be a parent."
It can work the other way around, too, dating coach Damona Hoffman, host of the Dates and Mates Podcast, explains to Romper. What turns us off in our 20s may not be as big of an issue as we age. "The biggest dealbreaker that I've seen shift is that women in their late 30s become open to dating men who already have kids, while most women in their 20s and early 30s say that is a dealbreaker," she says.
We take our dealbreakers pretty seriously. A 2015 study published in the Personality and Social Psychology Bulletin analyzed men and women's turn-offs for both long- and short-term relationships. The researchers found that both genders reported being more likely to avoid dating someone who had one of these undesirable traits than they were to date someone who met one of their dealbreakers.
We're not talking about the definite, no-compromise red flags that apply no matter what your age: Mental and physical abuse, unrepentant horndoggery, and hateful ideologies are always a sign to run far and fast. But other, less shady factors can be a problem when it comes to dating in your third decade. Here are some of the biggies: