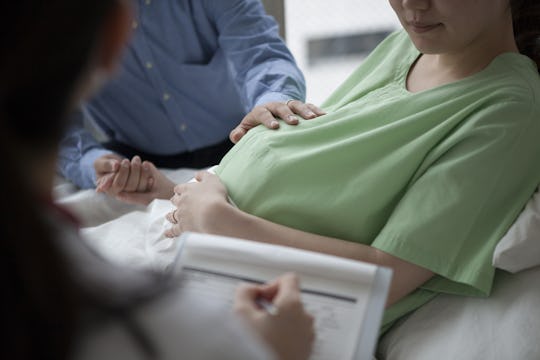 Fotolia
8 Things You Don't Have To Do When Having A C-Section, Even Though Everyone Says You Do
When my OB-GYN said, "c-section," my overthinking, crazy-planning anxious pregnant brain went into pure freakout mode. A c-section had been something I'd casually joked about with friends, like, "Well, if I have a c-section at least I won't have to worry about pushing!" However, I absolutely did not want to have a c-section, and the procedure was not written into our birth plan. So when a c-section was a possibility because of medical reasons, I didn't know that there were things you didn't have to do when having a c-section.
instead, I knew there were things everyone says you should do (besides avoiding having a c-section at all costs); things that your well-meaning friends will make you feel you should feel; things that other pregnant women or moms will ask you to do. Here's the beautiful thing, though; you can opt out of all of these things. Your birth is personal to you and your partner and your baby. I live my life pretty openly (probably too openly at times and maybe not with enough boundaries), so I'm an open book. I tell people everything about how I'm feeling and the thoughts that went into certain decisions. So when a c-section was on the horizon, I told everyone about it, knowing full well that I would be unleashing a storm of opinions and advice. Oh well.
Sadly, after my c-section I went around feeling really bad about having had one, and for a really long time. My default was to explain and apologize my c-section away, rather than celebrate the tremendous accomplishment that I had just achieved: the birth of a super awesome little guy. So, with that in mind and because there's no one "right" way to have a baby, here are just a few things you really don't need to do when you have a c-section.